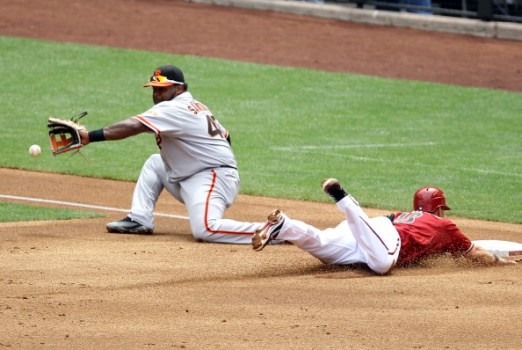 Getty Images
Willie Bloomquist #18 of the Arizona Diamondbacks slides safely into third base ahead of infielder Pablo Sandoval #48 of the San Francisco Giants during the first inning of the MLB game at Chase Field on April 8, 2012 in Phoenix, Arizona. (Photo by Christian Petersen/Getty Images)
The Giants wore their new alternate road uniforms, which were inspired by their look in the 1980s.
Then the Arizona Diamondbacks gave them one heck of a flashback, coming back from a six-run deficit to beat them 7-6 on Sunday and complete a three-game sweep at Chase Field.
Shockingly, the Giants couldn't hold a 6-0 lead with Matt Cain on the mound. And for the first time since 1984, they are 0-3 to begin a season.
Read more: Baggs' Instant Replay: Diamondbacks 7, Giants 6 Tune to SportsNet Central at 6, 10:30 and midnight on Comcast SportsNet Bay Area for more on this story