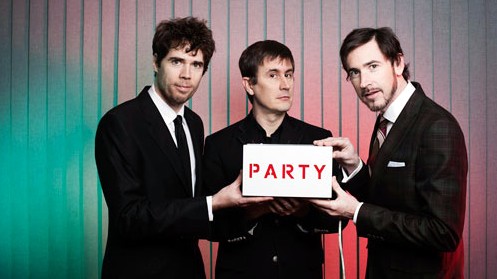 The Mountain Goats
The Mountain Goats will play The Front Porch Music Festival at Wente Vineyards in Livermore on Saturday, Sept. 1.
SATURDAY AT THE VINEYARD: Hello, three-day weekend. Hello, another blast of sunshine-laden summer weather. And hello, vineyard. Have a glass of wine for us? Thanks, we don't if we do. And we don't mind if we plunk down and enjoy an afternoon of fine tuneage in a lovely wine country setting. The setting is Livermore, the vineyard of which we speak is Wente Vineyards Estate Winery, and the music comes via The Front Porch Music Festival, an afternoon-to-evening festival focusing on the best of bluegrass and American classics. The Mountain Goats'll be on one of the two stages, as will the Dodos and the Jerry Hannan Band. And the range of bluegrass? Wide. Some'll take an indie route, others more traditional. Nine bands in all will play over the course of the holiday weekend Saturday; isn't it the best when the best parts of a long weekend fall on the first day? Our opinion.
OTHER THINGS TO KNOW: There will be food sold on the grounds, and places to picnic. Plus, the wine? Yeah, you'll be at vineyard. The vino'll hail from Wente and Tamas Estates and Double Decker. A ticket ahead of time is $20 and day-of is $30.