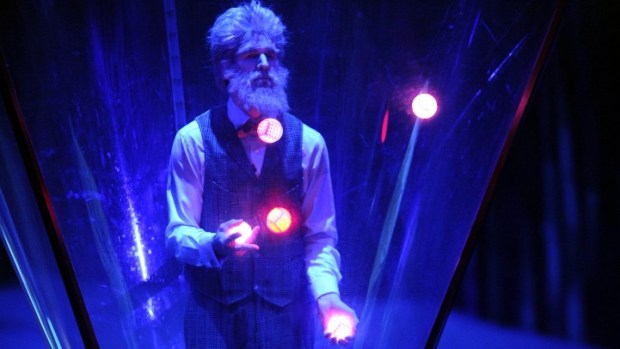 Daniel Auclair/Cirque du Soleil
TOTEM gets juggling in San Jose on March 2.
HOLIDAY HIGH JINKS: Cirque du Soleil's "TOTEM" bounded into San Francisco over the holidays, or the pre-holidays, if you like (we consider Halloween the holiday madness kick-off, though those people standing in the drugstore card aisle on Dec. 24 may disagree with us). Meaning lots of people took it in, though we'll wager plenty of Cirque fans -- Cirquens? -- were busy traveling and dealing with the usual big-family-gathering-type prep. And stealing away for a night to watch clowns preen and tumble? Often a luxury when there's a turkey to thaw. Which is why we love the Montreal-based troupe's policy of hitting several California cities on most tours. By hook or by crook (we think we've seen both things in a Cirque spectacular) fans can get their clown on. And here's your next chance: TOTEM, the latest touring show, bounds into San Jose on March 2.
THIS IS ALL WE NEED TO KNOW: Seriously, we think we might have to create an interpretative dance inspired by the opening line of the TOTEM description: "TOTEM traces the fascinating journey of the human species from its original amphibian state to its ultimate desire to fly." Hello. We want all of that in our head right now. If you do, too, get to the Grand Chapiteau at Taylor Street Bridge before April 8. We know, that's tax season, which is kind of like the holiday season, with the busy-busy, but. Amphibians prancing in colorful costumes. We could recommend anything better for getting through early April.