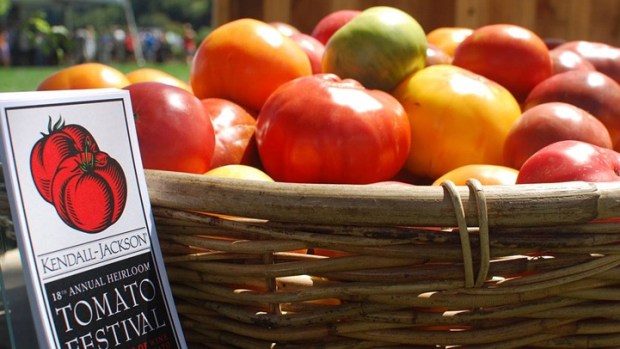 Kendall-Jackson
Over 175 heritage varieties from the estate gardens of Kendall-Jackson get their moment in the taste-happy sunshine on Saturday, Sept. 27.
BEYOND THE BURGER: If you were to stop an eater on the street and ask them what libation goes best with tomato-y products, chances are pretty strong that the tomato-y products end of things will bring a burger and fries to mind. Consider that a patty between to halves of a bun, plus a side order of potatoes, usually arrives with a tomato times two: a slice for the meat and ketchup for the dippable shoestrings. So the libation answer? Oh, a beer or cola. But the juicy fruit pairs well with other beverages, including the drink commonly seen on the other side of an ampersand from beer: wine. Wine and tomatoes show together in the great pairing of a chardonnay with Caprese salad, and merlots go with any tomato-dotted pasta. Thus it should surprise no one who is sweet on both vino and vine-grown fruits that Kendall-Jackson Wine Estate & Gardens has a culinary plot which yields dozens upon dozens of tomato types. Beyond "dozens upon dozens" actually -- over 175. And beyond "tomato types," too -- heirlooms are the order of tomatodom for the Fulton winery. And those fancy fruits get their day come early autumn when the wine house turns over a pleasant afternoon of tomato-tastery to its wine- and tomato-loving fans.
SATURDAY, SEPT. 27: The tony tomato slices and chunks'll be out come the first Saturday of autumn, a day that's often as golden as a Gold Medal heirloom. Garden tours, seminars, and food + wine meet-ups complement the seedy-sweet enjoyment. A chef's challenge and live tunes gussy up the garden party. Tickets? They're $95, and the Ceres Community Project, which engages teens "as gardeners and chefs" while encouraging "leadership skills and commitment to healthy eating" is the day's partner. (Low-cost and free meals are also delivered through the region, courtesy of Ceres, to family's dealing with a "health crisis such as cancer.") Help out, buy a ticket, and clear that Saturday for autumnal fruit savoring.