Cal Punter is the Shock of the Draft
Bryan Anger is compared to another Bay Area legend.
Saturday, Apr 28, 2012 | Updated 3:36 PM PDT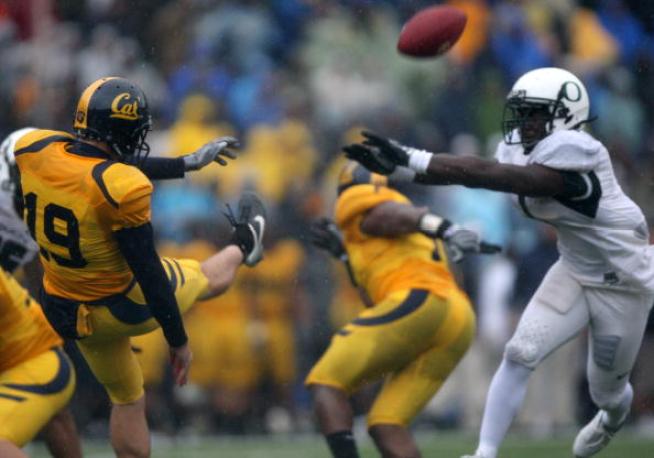 Getty Images
BERKELEY, CA - NOVEMBER 01: Marvin Thomas #1 of the Oregon Ducks attempts a to block the punt of Bryan Anger #19 of the California Golden Bears during an NCAA football game on November 1, 2008 at Memorial Stadium in Berkeley, California. (Photo by Jed Jacobsohn/Getty Images)
The Jacksonville Jaguars have made one of the NFL draft's biggest surprises, selecting UC Berkeley punter Bryan Anger in the third round.
The kicker from Cal is first punter to go in the top 100 picks since 1995.
He's the highest punter drafted since 1995, when the Chicago Bears chose Todd Sauerbrun in the second round.
Anger averaged more than 44 yards a punt in 2011, and had at least one punt of 50 yards or more in 11 games.
But is he good enough to go in the third round? Over players who would get on the field more often? The Jaguars believe so, with general manager Gene Smith saying Anger "clearly will make an impact on our football team."
The Jaguars compared Anger to Oakland's Shane Lechler and NFL great Ray Guy, the best in the league today and arguably the NFL's best all time.