Mayor Ed Lee Deals with School Funding Issue
Mayor Ed Lee is hoping to delay the release of "rainy day" funds, saying the district needs to balance its own budget.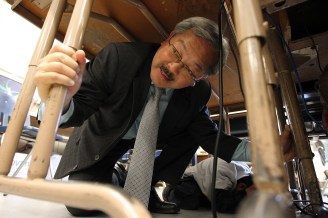 Getty Images
A City Hall hearing on the release of funds has been called, and school district officials are currently working with the mayor to hash out an agreement to get the money and prevent layoffs.
A state lawmaker accused Mayor Ed Lee of holding the school district "hostage," because the mayor did not immediately guarantee San Francisco's schools money that would prevent layoffs.
In "a yearly ritual," the school district gave 500 teachers and staff pink slips last week, according to the San Francisco Examiner. These positions have not been cut in the past because the mayor has given the school district cash from the city's "rainy day fund," which has about $25 million in it as of this year, the newspaper said.
Mayor Lee's office says the district needs to find another way to get the funding.
The mayor's office contends Lee is not delaying the release of any funding, but say he did put conditions on its released; conditions the district has already agreed to.
The mayor's office said the two will partner together to see if they can find any revenue anywhere. Specifically, they hope to find money in real estate holdings.