Sharks On the Verge of Elimination
Antti Niemi allowed Blues goals in the first and third periods, while the Sharks failed to score on four power play opportunities to find themselves one loss away from a long offseason.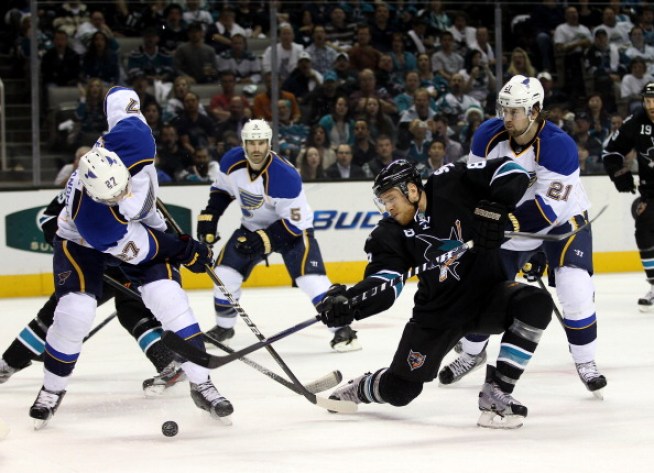 Getty Images
Joe Pavelski #8 of the San Jose Sharks puts a shot on goal against the St. Louis Blues in Game Four of the Western Conference Quarterfinals during the 2012 NHL Stanley Cup Playoffs at HP Pavilion on April 19, 2012 in San Jose, California. (Photo by Ezra Shaw/Getty Images)
The Sharks' season is on the brink.
B.J. Crombeen and Andy McDonald scored while Brian Elliott made 24 saves as St. Louis beat San Jose on Thursday night at HP Pavilion, 2-1.
The Sharks now trail the seven-game series, three games to one, and will try to avoid elimination in Saturday's Game 5 in St. Louis.
Trailing 1-0, the Sharks gave a strong push at the start of the third, seemingly realizing their season could be on the line. Heavy pressure in the Blues' end, perhaps their strongest of the series so far, resulted in a power play when Blues defenseman Barret Jackman went off for cross-checking at 8:41.
Read more: Sharks on the verge of elimination after 2-1 loss to Blues
Tune to SportsNet Central at 6, 10:30 and midnight on Comcast SportsNet Bay Area for more on this story