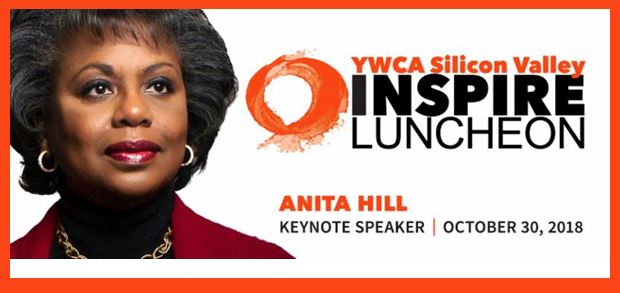 In its 28th year, YWCA Silicon Valley's Inspire Luncheon is an annual YWCA signature fundraising event attracting over 1,200 attendees, including corporate and community leaders, elected officials and Silicon Valley professionals. The Inspire Luncheon also features the presentation of the YWCA Empowerment Award to a survivor, community champion or advocate.
In addition to the remarks from YWCA Board President and Chief Executive Officer, YWCA's Inspire Luncheon hosts a keynote speaker whose aim is to inspire the Silicon Valley community.
YWCA Silicon Valley is excited and honored to welcome this year's Inspire Luncheon keynote speaker, Anita Hill.
Lauded as the whistleblower who catapulted the issue of sexual harassment into the spotlight, Anita Hill has a long history of speaking truth to power. Through her work as a professor, social activist and now the lead on the Commission on Sexual Harassment and Advancing Equality in the Workplace, Hollywood's response to the #MeToo movement, Hill has worked tirelessly to dismantle systems of oppression and empower women and minorities.
The goal of YWCA's Inspire Luncheon is to deepen the engagement of YWCA supporters, raise funds for YWCA programs and services and raise awareness about societal issues at the intersection of race, gender and violence, affecting women, young women and girls.
This is a non-ticketed fundraising event. Guests are invited by a table captain or an event sponsor and are asked to make a donation of $200 or more during the event to support programs and services provided by YWCA Silicon Valley.
WHEN: Tuesday, October 30, 2018
11:00am-12:00pm - Registration, Networking Social
11:00am–12:00pm - Private VIP Reception with Speaker (sponsors & VIP guests)
12:00-1:30pm - Lunch, YWCA Speakers, Keynote address
WHERE: Santa Clara Convention Center, 5001 Great America Parkway, Exhibit Halls C & D