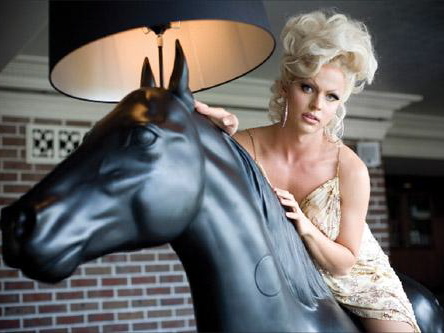 HOT FIERCE TRANNY FILM MESS: Tranny Fest, the transgender film festival, kicks off with a performance event featuring Sean Dorsey Dance, King TuffNStuff, Chan Dynasty, StormMiguel Florez, Shawna Virago and The Rice Kings. The fun begins at Mama Calizao's Voice Factory at 8pm, find ticketing information here. [SF Weekly]

ZIP, POW, BOP, DIY: Tonight at the Graphic Novel Master Class with Ariel Schrag Learn the ins and outs of making a graphic novel with one of the most successful practicioners the form. Ariel Schrag is the author of the graphic novel quartet Awkward, Definition, Potential, and Likewise, which chronicle her four years at Berkeley High. Get graphic from 6:30 to 8:30pm at the Contemporary Jewish Museum.

STREETCARS BY THE SEA: In the 1890s, San Francisco transit companies started selling surplus cable cars to the public for $20 and many people in the Sunset turned them into bars, restaurants, even houseboats. Tonight at 6pm Author Woody LaBounty shows images from and discusses his new book "Carville-by-the-Sea: San Francisco's Streetcar Suburb," about this quirky neighborhood that once rested on the edges of the Sunset District. Head to the SF main Library for this free event.
BEHIND THE MUSIC: Get the back story of one of Johnny Cash's most controversial albums at "A Heartbeat and a Guitar: Johnny Cash and the Making of Bitter Tears." Performances in word and song will depict the untold story. Stick around for the free after party with a DJ and food. Doors at The Make-Out Room open at 7 p.m. for the 7:30 show.
REEFER MADNESS THE MUSICAL: Come on, everyone knows a little puff, puff, give will lead youth down a path of no return. That's the gist of the classic production that takes to the stage at the University of San Francisco's Presentation Theatre. The upbeat "feel-good" musical showcases theater students of the ASUSF College Players. The curtain lifts at 8 p.m.

HOW SHOCKING: Halloween's over but you don't need a date on the calendar to make your night a thriller. Go to "Shocktoberfest!! 2009: The Torture Garden" if you dare. It sounds bizarre and with the description of "pageant of titillating Grand Guignol terror plays and stimulating sex farces," it's sure to tap into your dark side. The fetish-filled evening starts at 8 p.m. at the Hypnodrome in San Francisco.