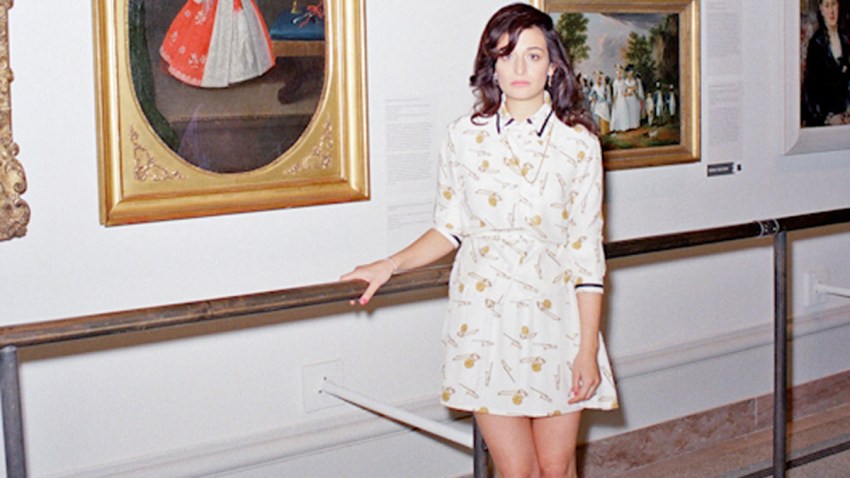 Spitfire comic Jenny Slate is making her SF Sketchfest debut this month at Cobb's Comedy Club at 10:30 p.m. on Friday, January 24, with the show Jenny Slate and Friends.
But, what would Jenny Slate and Frenemies from High School be like?
"I didn't have any frenemies in high school," Slate said. "If it was Jenny Slate and Frenemies from High School, it would just be me flinching for an hour waiting for someone to attack me and not having anything happen. That would be interesting."
Instead, Slate is bringing along comic pals Jon Daly, Brett Gelman, Max Silvestri and Nick Thune for a late-night cavalcade.
"The format will be traditional; the performers not so much," Slate said. "I hear that the crowds at Cobb's are really down for a party."
Slate had to cancel her performance at last year's Sketchfest due to a change in her filming schedule for the season finale of Showtime's "House of Lies," she said. Since leaving "Saturday Night Live" after one season in 2010, Slate has been juggling regular live shows on both coasts, hilarious roles on shows like "Parks and Recreation" and Comedy Central's "Kroll Show" and voice work on stuff like "Bob's Burgers" and her own smash viral video, "Marcel the Shell with Shoes On."
The multitasking Slate was even making a peanut butter and jelly sandwich for her husband during this interview.
"He won't have a healthy kind of peanut butter. He makes me get Jif, even though I want to have the organic peanut butter without all the hydrogenated oils," she laughed.
Slate's humor can be compared to the last sketch that typically appears five minutes before the end of "Saturday Night Life," off-the-rails, bizarre and spit-take funny.
"That's my area, the bonkers area," she said.
Slate said the goodnights of "SNL" were among her favorite moments and recalled an odd exchange.
"Bobby Moynihan and I were wearing full gorilla costumes with latex prosthetics on our face. We didn't have enough time to take them off before it was time for goodnights," she said. "The musical guest was Bon Jovi. I turned to Richie Sambora and was like, 'Really nice to meet you,' and he said, 'You, too.' And I said, "This latex is so bad. Sorry my face smells like farts."
One day, Slate began speaking in a slight, sweet and whispery way to her filmmaker husband, Dean Fleischer-Camp, and the voice inspired the couple to create Marcel, an adorable, one-eyed seashell with itty-bitty sneakers.
"Sometimes you'll hear music, and it will make you start doing a dance or a weird body movement that you could only have started with that music," she said after being asked about her motivation for voices. "I don't know how to describe it. It's a feeling. I get a feeling. A lot of times it makes me want to speak as somebody else. That seems like I'm mentally ill. It happens pretty naturally. It's like dancing, if that makes any sense at all."
He hang-glides using a Dorito. He uses the toenails of a man for skis. He's Marcel, and his first video has been watched more than 22 million times.
"We have our second book coming out relatively soon. We will be making a feature, eventually. I hope Marcel does stick around. I think he's really an interesting, positive, complex character. I think he connects with people of all different ages. If there was one thing that I would be remembered for, I would be very happy if that was my little thing that I did for the world," Slate said.
Slate, Gabe Liedman and Max Silvestri will also present "Big Terrific," a popular New York City comedy show, transported to Sketchfest at 8 p.m. Saturday, January 25, also at Cobb's. You can also catch Slate on new episodes of "Kroll Show" at 10:30 p.m. Tuesdays on Comedy Central.
Corey Andrew has been interviewing comedians and writing about comedy for the last decade and a half. He recently published the book, "Laugh Lines: Conversations with Comedians." Corey was a writer and performer with Midwest sketch troupe, The NonProphets, before moving to the Bay Area with his family several years ago. If you have ideas for future columns about comedy, you can send them to coreywrites@yahoo.com or follow him at twitter.com/coreywrites.