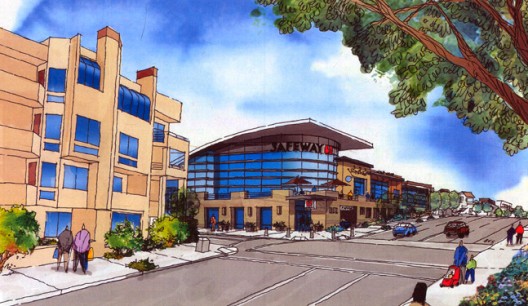 Safeway
in San Francisco's Outer Richmond hears the siren call of expansion!
The Richmond SF blog says the City's favorite nonorganic chain retailer bought the lot at Fulton and La Playa a couple years ago, and have been drawing up their plans for expansion ever since.
Those plans would have the Safeway grow outward from its current seat in the middle of its parking lot moat — more or less covering the parking lot entirely while doubling square footage of the store (the parking lot space to the north of the store would remain untouched, to be sold to a residential developer when the economy picks up steam again).
The store would then add an entire level of parking underground. The beachside Safeway 2.0 is meant to draw material and design inspiration from the the Cliff House and Beach Chalet, as well as Mendocino's Sea Ranch for "attractive yet durable materials."
Plans may also include space for smaller, local retailers on the Fulton Street side of the building.
And it doesn't end there for Safeway, whose decadelong effort to expand in Burlingame might be instructive too.
The grocer was forced to give up renovation plans in 1998 because it was too ambitious, and then again in 2004 when it got twice as ambitious.
Third time's the charm for everyone involved — with community input this time around, everyone seems to be happier with the Burlingame plans. Things might be playing out the same way for the Outer Richmond, where the company left some designs undrawn, to let the community decide, naturally.
Copyright CURBS