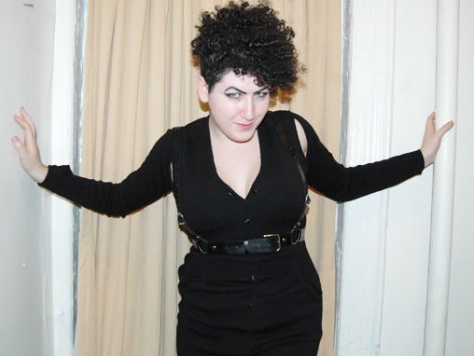 Fashion blogger, stylist and designer Zana Bayne of Garbage Dress brings her latest accessories to her native San Francisco tomorrow night for a trunk show – the 21-year-old designer's first ever – at Shotwell in Union Square. Leather harnesses like the one seen here on Bayne will be among the edgy items up for grabs.
We caught up with Bayne for a quick chat about New York fashion, the intrigue of a good harness and her love of the color black.
So you used to hail from SF, and now you live in Brooklyn, right? What do you love about your new city, in terms of fashion? What do you miss about San Francisco fashion?
I'm completely smitten with New York. I love the energy, the business, the constant movement. I'm much more focused here. There's better access to a wider range of designers here, so it's always exciting to see those looks worn out on the street. At the same time, there are so many young designers here who wear their own creations and I LOVE that.
I enjoy San Francisco's craftiness and cheap vintage. There is really nothing like shopping secondhand in California!
What kind of accessories will you be showing at Shotwell on Monday?
I will be showing leather harnesses and shoulderpieces. Expect drama, danger, mixed materials and extreme proportions!
What is it that intrigues you about the harness – what do you hope the wearer feels when he or she is donning it?
I think of the harnesses and shoulderpieces as a way to enhance a pre-owned wardrobe. I think there is something inherently sexy about wearing a leather harness as a day look, and I love adding sculptured shoulders to a bare neckline or draped dress at night! I love to see how people wear the harnesses and integrate them into their own style.
We were laughing (with you, of course) about your mention of the Real Housewives on your blog. You wrote, "We ended our night with the couch, burritos, prosecco, and the real housewives of Atlanta reunion pt2. You see, we really are human underneath all of the black drapery." Do you find that just because you love wearing black that people often assume that you're a dark, moody person, like off reading Satre all the time and embroiled in an existential crisis or something?
I think that the image that I project of myself in passing or online can be slightly severe. My photo face is not too smiley, although I'm constantly grinning in conversation! I think it's important to acknowledge that I'm aware of my outward appearance, and at the same time poke fun at it. I'm a very happy person, I just love wearing black.
What projects are you working on these days?
I try to get my hands in as much as possible. I have consecutive retail jobs, my blog, harness business, collaborations, editorial styling and photography.
What really excites you in fashion right now?
Every week it's something different. Recently, I've been looking into more structured silhouettes in opposition to my normal love for oversized shapes. I'm always inspired by headpieces and would love to make some.
You've turned 21 since your last time in SF. What joints are planning to hit up to exercise your legal status?

Oh, I don't even know where to begin. "Death Guild" at the Glas Kat on Monday nights is always a jolly good time. You'll probably see me at Edinburgh Castle or Hemlock Tavern. Maybe I'll go on a proper beer crawl? Yeah, that might be nice.


Lorraine Sanders gets close and personal with more designers at SF Indie Fashion