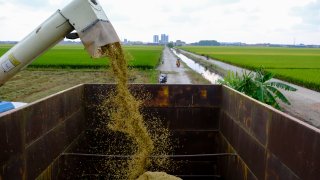 This was CNBC's live blog tracking developments on the war in Ukraine. See here for the latest updates. 
Ukraine Foreign Minister Dmytro Kuleba spoke to CNBC's Hadley Gamble at the World Economic Forum in Davos, Switzerland. Kuleba discussed the Ukraine war, the reconstruction of his country and further sanctions against Moscow.
Meanwhile, Ukraine's President Volodymyr Zelenskyy has said the situation in the Donbas in eastern Ukraine is "very difficult" with Russian forces concentrating their fire and manpower on assaulting the region and seizing key cities there.
Zelenskyy said in his nightly address to the nation that "practically the full might of the Russian army, whatever they have left, is being thrown at the offensive there. Liman, Popasna, Sievierodonetsk, Slaviansk – the occupiers want to destroy everything there."
What do Ukrainians need most right now? 'Safety,' Kyiv's mayor says
The mayor of Kyiv Vitali Klitschko has told the World Economic Forum that the main priority for him, and for Ukrainians, is "safety."
Holding his phone to the microphone, Klitschko played the audience the sounds of air raid sirens that have become a daily occurrence for Ukrainians fleeing for safety in underground bunkers amid Russian shelling.
"Today, nobody has any safety. Any second, any minute, rockets can land in any buildings," he said, adding there were "no rules" in this war.
The population of Kyiv was around 3.5 million before the war, Klitschko said. Now, it is around a million, he added, although people were slowly returning to the city since Russia had withdrawn its troops from the areas surrounding Kyiv, and had focused their forces on eastern Ukraine.
He said the war in Ukraine is a tragedy for both Ukrainians, and Russians.
"What's happening now is a huge tragedy, not just for Ukraine and for millions of people in Europe, but it's also a big tragedy for Russians. They don't understand, right now, the meaning of the tragedy but slowly they will understand it," he said.
— Holly Ellyatt
Russia's defense ministry says it will let foreign ships leave Black Sea ports
Russia's defense ministry said it would open a safe corridor to let foreign ships leave Black Sea ports, Russian state news agency Interfax reported Wednesday.
The Russian defense ministry has reportedly announced that it is opening two safety corridors for the exit of foreign ships from ports on the Black and Azov Seas between 8 a.m. and 7 p.m. Moscow time.
The head of the National Defense Control Center Mikhail Mizintsev said at a briefing that these lanes would provide for the safe movement of ships from ports including Kherson, Nikolaev, Chernomorsk, Ochakov, Odessa and Yuzhny on the Black Sea, as well as Mariupol, on the Sea of Azov.
"In six ports - Kherson, Nikolaev, Chernomorsk, Ochakov, Odessa and Yuzhny, 70 foreign ships from 16 states remain blocked," Mizintsev said. He claimed that Ukraine posed a threat in terms of shelling, and that mines had not allowed "ships to go to the open sea without hindrance."
Russian forces have for weeks blocked Ukrainian ports, contributing to a global food security crisis. Ukraine is a leading global producer of both wheat and sunflower seeds, which are used for oil.
Russia has said the ports and the water area near them are mined and merchant ships could be vulnerable.
— Holly Ellyatt and Chelsea Ong
Russia fast tracks citizenship for Ukraine residents
President Vladimir Putin issued an order to fast track Russian citizenship for residents in parts of southern Ukraine largely held by his forces, while lawmakers in Moscow passed a bill to strengthen the stretched Russian army.
Putin's decree applying to the Kherson and Zaporizhzhia regions could allow Russia to strengthen its hold on territory that lies between eastern Ukraine, where Moscow-backed separatists occupy some areas, and the Crimean Peninsula, which Russia seized in 2014.
The Russian army is engaged in an intense battle for Ukraine's eastern industrial heartland, known as the Donbas. In a sign that the Kremlin is trying to bolster its stretched military machine, Russian lawmakers agreed to scrap the age limit of 40 for individuals signing their first voluntary military contracts.
A description of the bill on the parliament website indicated older recruits would be allowed to operate precision weapons or serve in engineering or medical roles. The chair of the Russian parliament's defense committee, Andrei Kartapolov, said the measure would make it easier to hire people with "in-demand" skills.
— Associated Press
U.S., EU and UK announce new initiative to support war crime investigations
The United States, European Union and United Kingdom announced the formation of the Atrocity Crimes Advisory Group (ACA), which aims to support the investigators documenting war crimes and other atrocities committed in Ukraine.
"The ACA is an essential element of the United States' commitment that those responsible for such crimes will be held to account," Secretary of State Antony Blinken wrote in a statement.
"In this regard, the ACA will liaise with the Department of Justice as it pursues accountability in U.S. courts," Blinken added.
Russia has dismissed claims that its forces in Ukraine have committed war crimes and describes its ongoing war as a "special military operation."
— Amanda Macias
Turkey makes demands on Sweden, Finland NATO membership
A senior Turkish official has insisted after talks with Swedish and Finnish officials that Turkey will not agree to the two Nordic countries joining NATO unless specific steps are taken to address Ankara's objections.
"We have made it very clear that if Turkey's security concerns are not met with concrete steps in a certain timeframe the process will not progress," Ibrahim Kalin said after talks in Ankara that lasted about five hours.
Kalin is the spokesman of Turkish President Recep Tayyip Erdogan, and a senior presidential aide.
Turkey has said it opposes the countries' membership of NATO, citing grievances with their perceived support of the Kurdistan Workers' Party and other entities that Turkey views as security threats.
Kalin said Turkey's proposal for the two countries to lift arms export limits was met with a "positive attitude" by the Swedish and Finnish delegations.
— Associated Press
Mariupol official says first cargo ship to depart port in coming days
A Russian-backed official in the occupied Ukrainian port of Mariupol said the first ship to leave since pro-Russian forces completed their capture of the city would leave in the next few days, the TASS news agency reported.
The official said the ship would take around 3,000 tons of metals to Rostov-on-Don in Russia, TASS said.
Earlier, Russia's defense ministry said that Mariupol's port, a shallow-water harbor on the Azov Sea, was "operating normally."
— Reuters
Putin hikes Russian pensions, plays down Ukraine impact on economy
Russian President Vladimir Putin ordered 10% rises in pensions and the minimum wage to cushion Russians from inflation, but denied the country's economic problems were all linked to the war in Ukraine.
With annual inflation near 18% last month, the Kremlin leader acknowledged that 2022 would be a "difficult" year for the Russian economy.
"When I say 'difficult', it doesn't mean all these difficulties are connected to the special military operation," Putin told a televised meeting of the State Council in Moscow. "Because in countries that aren't conducting any operations - say, overseas, in North America, in Europe - inflation is comparable and, if you look at the structure of their economies, even more than ours."
His comments ignored the fact that rising inflation in Western economies is in part a direct consequence of Russia's war in Ukraine, which has driven up prices for energy and food around the world.
The pension increase comes into effect from June 1, while the minimum wage hike kicks in on July 1.
— Reuters
Zelenskyy offers condolences to families of victims in Texas school shooting
Ukrainian President Volodymyr Zelenskyy offered his condolences to the families of the victims in Tuesday's mass shooting at an American school that left at least 19 children and two teachers dead.
"I would like to express my condolences to all of the relatives and family members of the children who were killed in an awful shooting in Texas in a school," Zelenskyy said by video link to the World Economic Forum in Davos, Switzerland.
"As of this time, as far as I know, 21 people were killed, including 19 children," he said. "Absolutely innocent children are being murdered in an absolutely peaceful time."
"This is terrible to have victims of shooters in peaceful times," he added.
— Amanda Macias
Russia says it will pay foreign debt in rubles after U.S. ban
Russia says it will pay dollar-denominated foreign debt in rubles, a move that is likely to be seen by foreign investors as a default.
The U.S. Treasury Department led by Janet Yellen allowed a license to expire Wednesday that permitted Russia to keep paying its debtholders through American banks. The license applied to American investors and international investors who have dollar-denominated debt or bonds.
The Russian Finance Ministry said it will pay in rubles and offer "the opportunity for subsequent conversion into the original currency." The ministry didn't give a timeframe for that to happen.
Russia has not defaulted on its international debts since the 1917 Bolshevik Revolution, when the Russian Empire collapsed and the Soviet Union was created. Russia defaulted on its domestic debts in the late 1990s during the Asian financial crisis but was able to recover from that default with the help of international aid.
— Associated Press
UN says at least 3,974 killed in Ukraine since start of war
The United Nations has confirmed 3,974 civilian deaths and 4,654 injuries in Ukraine since Russia invaded its ex-Soviet neighbor on Feb. 24.
The Office of the U.N. High Commissioner for Human Rights said the death toll in Ukraine is likely higher, because the armed conflict can delay fatality reports.
The international organization said most of the civilian casualties recorded were caused by the use of explosive weapons with a wide impact area, including shelling from heavy artillery and multiple launch rocket systems, as well as missiles and airstrikes.
— Amanda Macias
Multi-year food crisis a big threat, Ukraine's foreign minister warns
Global food prices are already soaring because of the war in Ukraine, with ships blocked from exporting the country's staple produce, like wheat.
Dmytro Kuleba, Ukraine's foreign minister, has now warned that the blockade could lead to a multi-year food crisis.
"This is only the beginning and if we allow Putin to continue this military madness, the crisis will go deeper and deeper," he told CNBC's Hadley Gamble at the World Economic Forum.
"If Russia does not lift its blockade ... Ukrainian grain will be getting rotten. If this problem is not resolved, Ukrainian farmers will not plant another crop and the whole agricultural cycle in Ukraine will be interrupted and that will mean a multi-year food crisis."
Kuleba said countries were already feeling the pressure of rising food prices. The European Commission and U.S. have accused Russia of weaponizing food supplies in the war but Russia denies that, instead blaming Western sanctions.
A Russian minister said Wednesday that Moscow would consider humanitarian corridors for ships exporting produce, in return for a relaxation of international sanctions.
— Holly Ellyatt
Ukraine won't cede any territory to Russia, foreign minister says
Ukraine's foreign affairs minister has added to criticism of Henry Kissinger's suggestion that Ukraine should consider ceding territory to Russia in order to bring about peace.
"I respect Henry Kissinger but I appreciate that he's not holding any official position in the U.S. administration, he has his own opinion, but we strongly disagree with it," Dmytro Kuleba, Ukraine's foreign minister, told CNBC Wednesday.
"This is not something we're going to do," he added.
Kuleba said Ukraine had followed a policy of constructive dialog with Russia even after it annexed Crimea in 2014, but this had not brought about a peaceful resolution to the conflict in the Donbas region where there has been fighting between pro-Russian separatists and Ukrainian forces over the last eight years.
"It never worked and in the end it brought us all to the biggest war in Europe since World War II. If it failed once, it will fail twice," he said.
— Holly Ellyatt
Ukraine's 'polite' reply to Henry Kissinger: We will not give an inch of land to Putin
A Ukrainian MP has given what he called a "polite" reply to Henry Kissinger's suggestion that Ukraine should be prepared to cede some territory to Moscow in order to reach a peace deal.
"I think Mr Kissinger still lives in the 20th century and we are in the 21st century and we are not going to give up any inch of our territory," Oleksiy Goncharenko, a Ukrainian member of parliament, told CNBC Wednesday. "That would be the worse signal to Putin," he added.
"We should stop Putin now and not let him go further," Goncharenko said, adding that he believed the best way to establish peace was to bring Ukraine inside the European Union as quickly as possible.
Former U.S. Secretary of State and National Security Advisor Henry Kissinger caused a stir earlier this week when he suggested that Ukraine should be prepared to cede some territory to Russia in order to reach a peace deal with Moscow.
Speaking on a panel at the World Economic Forum on Monday, Kissinger said "ideally, the dividing line should return to the status quo ante," meaning a return to the existing state of affairs before the war, suggesting that he thought that Russia should be allowed to retain Crimea, which it annexed in 2014.
Kissinger, who served under Presidents Richard M. Nixon and Gerald Ford, said that "pursuing the war beyond that point would not be about the freedom of Ukraine … but a new war against Russia itself."
Ukraine's President Volodymyr Zelenskyy has ruled out ceding any land to Russia as part of a deal, particularly in reference to the Donbas region in eastern Ukraine, where Russian forces are currently focusing on seizing. It's unclear whether Kyiv might accept that Crimea remains in Russian hands, however.
— Holly Ellyatt and Sam Meredith
Russia's invasion sending 'shock waves' around the world, EU commissioner says
"We clearly see the consequences of Russia's invasion in Ukraine, it's sending shock waves around the world, and the world economic growth forecast has been revised downwards considerably and the same is true in the EU," Valdis Dombrovskis, European vice president and commissioner for trade for the European Commission, told CNBC on Wednesday.
Speaking to CNBC at the World Economic Forum in Davos, which has been focused on the plight of Ukraine as Russia's invasion continues, as well as the global fallout from the war, Dombrovskis said the EU needed to act urgently to sever its energy ties with Russia.
The invasion has led the EU to scramble to reduce its reliance on Russian gas supplies although an EU-wide embargo on oil and gas from Russia is still not agreed upon.
"We urgently need to move away from our dependence on Russian fossil fuels," Dombrovskis said.
— Holly Ellyatt
Russia claims it's ready to set up corridors for ships leaving Ukraine with food
A Russian official has reportedly said Moscow is ready to provide a humanitarian corridor for ships carrying food to leave Ukraine, in return for the lifting of some sanctions.
"We are always ready for dialogue with everyone who strives for peace, for a peaceful resolution of all problems," Russian Deputy Foreign Minister Andrei Rudenko said Wednesday, according to Russian state news agency interfax.
"We have repeatedly spoken out on this subject that the solution to the food problem requires a comprehensive approach," he said, "including the removal of sanctions restrictions that were imposed on Russian exports and financial transactions."
Russia is ready to provide the necessary humanitarian passage, Rudenko claimed.
On Tuesday, the president of the European Commission, Ursula von der Leyen, accused Russia of "weaponizing" food supplies in Ukraine by blocking exports of basic produce from the country, such as wheat and cooking oil. Global food prices have risen as a result of the reduced exports. Russia denies it is using food to pressure Ukraine's allies into loosening sanctions.
Andrius Tursa, Central and Eastern Europe advisor at Teneo Intelligence, said in a note Wednesday that "there are no easy ways to unblock food exports via Ukraine's Black Sea ports," and that alternative export routes via land and rivers require time and investment to eliminate infrastructural and bureaucratic bottlenecks.
"The war will significantly lower Ukraine's food production and exports for the foreseeable future," Tursa said.
— Holly Ellyatt
Malawi is feeling the impact of the war in Ukraine, president says
Malawi's President Lazarus Chakwera said the rising prices of food, fuel and fertilizers — largely brought on by the war in Ukraine — is having an impact on the African economy.
"We should still work together to find solutions" to end the war, he said.
— Holly Ellyatt
Shift from Russian gas will be 'really painful' for Germany, CEO says
The shift away from Russian gas will be, in the short term at least, "really painful for the industry" in Germany, Covestro Chief Executive Markus Steilemann told CNBC at the World Economic Forum.
"There's very little opportunity to compensate [for that shift], it would cost hundreds of thousands of jobs — that's my personal belief — and it would really hammer down the German industry context."
He said German industry needs to be supported with the energy transition away from Russian gas, adding that "what we need to do, with full force, is transition to renewable energies" and to develop that sector in Germany.
— Holly Ellyatt
Russia exposed to historic debt default as U.S. bars dollar payments
The U.S. has ended a crucial exemption that allowed Moscow to pay foreign debt to overseas investors in U.S. dollars through American and international banks, potentially forcing Russia into default.
The Treasury Department's Office of Foreign Assets Control had permitted dollar payments on a case by case basis, enabling Russia to service its foreign debt up until now, although depleting its accumulated war chest of foreign currency reserves. OFAC announced in a bulletin Tuesday that the exemption would expire as of 12:01 a.m. ET on Wednesday.
Russia has a deluge of debt service deadlines coming up this year, notably $400 million in interest payments due in late June.
Adam Solowsky, partner in the Financial Industry Group at global law firm Reed Smith, told CNBC on Friday that Moscow will likely argue that it is not in default since payment was made impossible, despite it having the funds available.
Solowsky said the situation was entering "unknown territory" and that Russia and the U.S. were potentially looking at a period of "prolonged litigation."
Read more on this story here.
UK retailer Marks & Spencer pulls out of Russia
British retailer Marks & Spencer has announced that it will pull out of Russia, becoming the latest in a long line of companies to do so.
The food and clothing retailer ceased shipments to Russia in March and it said on Wednesday it would exit its franchise there, taking a charge of £31 million ($39 million).
In its latest earnings update, M&S said it was starting the current 2022-23 year from a lower profit base.
"The business is now much better positioned and had an encouraging start to the year. However, given the increasing cost pressures and consumer uncertainty, we do not currently expect to progress from this lower profit base in 2022-23," it said.
— Holly Ellyatt
The extent to which the EU will be involved in Ukraine reconstruction is uncertain, official says
The EU must support Ukraine in its reconstruction, a top official has told CNBC, but said that the degree to which the bloc foots the bill for the eventual rebuilding of Ukraine is a big unknown.
"It should be a European commitment, because Ukraine is in Europe and they want to enter the European Union and we consider them in our family so Europe can't say 'oh reconstruction is a matter for other global players'," Paolo Gentiloni, economy commissioner for the European Commission, told CNBC Wednesday.
"How will we address this issue? This is an open question, but it's not the question for now. For now, the issue is to support Ukraine because the fact that this resistance is successful is decisive for our future," he said.
Russia's invasion of Ukraine has been dominating the agenda at the World Economic Forum in Davos, Switzerland, with political and business leaders warning that the war is already having far-reaching consequences for global food supplies and geopolitical stability.
— Holly Ellyatt
Civilization may not survive Putin's war in Ukraine, George Soros says
Liberal billionaire George Soros has said Russia's invasion of Ukraine could be looked back on as the starting point of World War III.
At his annual dinner amid the World Economic Forum on Tuesday evening, Soros said the course of history had changed dramatically since the last event was held in Davos, Switzerland.
"Russia invaded Ukraine. This has shaken Europe to its core," he told the audience.
"The European Union was established to prevent such a thing from happening. Even when the fighting stops, as it eventually must, the situation will never revert to the status quo ante. Indeed, the Russian invasion may turn out to be the beginning of World War III, and our civilization may not survive it."
Read the full story here: Soros says civilization may not survive Putin's war in Ukraine, warns of global depression
— Matt Clinch
Zelenskyy says Russia is putting everything it has into Donbas fight
Ukrainian President Volodymyr Zelenskyy said Russia is using everything at its disposal in the fight for four cities in the eastern Donbas region.
"The situation in the Donbas now is very difficult," Zelenskyy said in his nightly address to the nation. "Practically the full might of the Russian army, whatever they have left, is being thrown at the offensive there. Liman, Popasna, Sievierodonetsk, Slaviansk – the occupiers want to destroy everything there."
Zelenskyy said the Ukrainian army is fighting back, but "it will take time and a lot more effort by our people to overcome their advantage in the amount of equipment and weapons."
He told Ukrainians they should be proud of having held off Russia for three months in a war that many in Russia and the West expected to last three days.
— Associated Press
NATO chief warns Russia that an attack on one ally 'will trigger the full response from the whole alliance'
NATO Secretary-General Jens Stoltenberg said that while the 30-member military alliance has not put troops into Ukraine, a Russian attack "on one NATO ally will trigger the full response from the whole alliance."
"This is deterrence. The purpose is not to provoke conflict but to prevent conflict and preserve peace," Stoltenberg said at the World Economic Forum in Davos, Switzerland.
Since Russia invaded Ukraine in late February, NATO has increased its military presence in eastern parts of the alliance, Stoltenberg said.
"Now we have 40,000 troops in the NATO command. We have more naval, the air capabilities, especially in the eastern part of the alliance and we have 100,000 troops on heightened alert," he said. He added: "This is to send a very clear message to Moscow and leave no room for miscalculation or misunderstanding."
— Amanda Macias
Read CNBC's previous live coverage:
Russia's debt default risk grows; Zelenskyy speaks to EU's Michel about more aid
Copyright CNBC