Two people died in San Jose overnight in separate vehicle crashes, one of which resulted in a DUI arrest, according to police.
The first fatality occurred in a four-vehicle crash on southbound Highway 85 at Union Avenue in South San Jose at about 11:35 p.m. Monday, the California Highway Patrol said. A 61-year-old Hollister woman driving one of the vehicles was taken from the scene to Santa Clara Valley Medical Center with major injuries and later died.
The driver of a 2020 BMW M8, later identified as Cupertino resident Svyatoslav Solovyev, 33, was arrested at the scene on suspicion of driving under the influence and vehicular manslaughter, police said.
A 2006 Subaru and 2007 Toyota Camry also were involved in the wreck, but no other injuries were reported.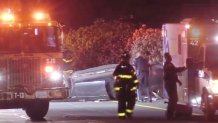 The second fatality occurred in a solo rollover crash on Almaden Expressway at Redmond Avenue in South San Jose at about 2:10 a.m., according to San Jose police. All southbound lanes were shut down for the investigation.
A man driving a 2006 black Acura Integra veered off the roadway and struck some trees before rolling over. He died at the scene, police said. It was the city's 24th traffic fatality this year.
Neither of the victims in the two crashes was identified.