A spirited Hillary Clinton took on the Trump administration Tuesday in some of her sharpest political comments since she lost the presidential election.
She criticized the federal government's leaders on everything from health care to a shortage of women in top positions in an appearance Tuesday before thousands of women in San Francisco attending the Professional Businesswomen of California Conference.
Clinton joked there was no place she'd rather be, "other than the White House.''
She added, though, that she's "happy to be out of the woods."
Hillary Clinton Empowers Women at Bay Area Businesswomen Conference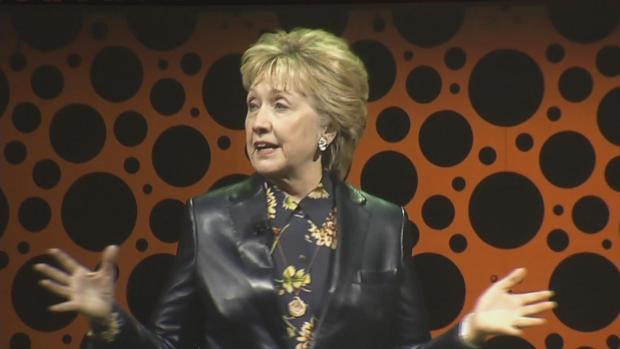 Without mentioning President Donald Trump by name, Clinton faulted her former presidential rival for having what she said was the lowest number of women in an administration for a generation.
"The number of women serving in the state legislature is [at] a 20-year low," Clinton said.
She also called last week's failure by Republicans to repeal the Affordable Care Act "a victory for all Americans.''
"Resist, insist, persist and enlist," Clinton told the crowd. "We need more women at the table where decisions are made."
Clinton defended White House reporter April Ryan (White House Press Secretary Sean Spicer lashed out at Ryan during a press briefing earlier Tuesday and told her to "stop shaking your head" over a question about the administration's image) and Democratic Calif. Rep. Maxine Waters (Fox News host Bill O'Reilly apologized Tuesday after he was slammed on social media for saying Waters' hair looked like a "James Brown wig.")
"Just look at all that's happened in the last few days to women who were simply doing their jobs," she said. "April Ryan, an immensely respected journalist with unrivaled integrity, was doing her job just this afternoon, and she was patronized and cut off as she tried to ask a question. One of your own California congresswomen, Maxine Waters, was taunted with a racist joke about her hair."
Clinton said that too many women, especially women of color, "have had a lifetime of practice taking precisely these kinds of indignities in stride."
"Any woman who thinks this couldn't be directed at her is living in a dream world," she said.
The former presidential candidate joined fellow leading female figures such as Academy Award-nominated actress Taraji P. Henson and critically-acclaimed actress Rosario Dawson as keynote speakers at the San Francisco event.
Oakland Mayor Libby Schaaf and Congresswoman Jackie Speier were also expected to address the sold-out crowd.
Clinton, the former U.S. Secretary of State, has kept out of the public eye for the most part since falling in the presidential election.
Clinton told a Pennsylvania crowd earlier this month she was "ready to come out of the woods,'' and work to help Americans find common ground.
Hillary Clinton to Empower Women at Bay Area Businesswomen Conference
Yes. "It's especially important we model empathy for our kids" - @HillaryClinton@pbwc#InclusionNow

— Miss Representation (@RepresentPledge) March 28, 2017
Hillary Clinton: "We need more women at the table where decisions are made." #InclusionNow

— scott budman (@scottbudman) March 28, 2017
Hillary Clinton gets ovation from #InclusionNow crowd, says she's "happy to be out of the woods."

— scott budman (@scottbudman) March 28, 2017
WATCH: And here's the video of @HillaryClinton defending WH reporter @AprilDRyan and Congresswoman @MaxineWaterspic.twitter.com/VPK9doFxTe

— Yashar (@yashar) March 28, 2017
.@HillaryClinton is my spirit animal. RESIST. INSIST. ASSIST. PERSIST. ���� #PBWC#InclusionNowpic.twitter.com/FESeXPoxWh

— Kelsey Witherow (@kelsey_witherow) March 28, 2017
"Resist. Insist. Persist. Enlist." Thank you @HillaryClinton for your wisdom, your boldness, your years of service @pbwc#InclusionNow

— Jen Siebel Newsom (@JenSiebelNewsom) March 28, 2017
"There is no more important woman than the one who stands up for herself and others" - @HillaryClinton@pbwc#InclusionNow#PBWC2017pic.twitter.com/ipaBFPqaeZ

— Floy Chang Campbell (@floysauce) March 28, 2017