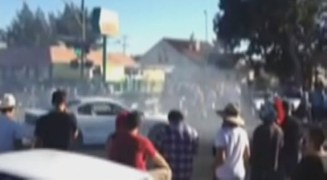 Police in Los Gatos say they've stepped up patrols in the area of Los Gatos High School after a teenage Mustang driver allegedly lost control of his car and hit somebody while spinning doughnuts in a high school parking lot.
The 18-year-old driver was cited for reckless driving after spinning out of control during a "sideshow" at Los Gatos High School on Aug. 6, according to reports.
Silicon Valley Community Newspapers report that the driver told cops he lost control of his car when his brakes failed, causing him to smack into a railing. However, witnesses told police that the driver was the centerpiece of a beer-fueled sideshow.
The driver "hits one kid, smacks his car into the rails and the corner of the stairs," a poster on Nextdoor.com wrote, according to the newspaper. The teen who was hit was "scraped and bruised."
The driver received a citation but there was no evidence of beer-drinking found the next day, according to police.
Police were called prior to the injury with reports of "kids in the back parking lot of the high school," the newspaper reported.
California Highway Patrol officers are still looking for the driver of a black Camaro who did doughnuts on the Golden Gate Bridge this past weekend.
Published at 2:20 PM PDT on Aug 22, 2014