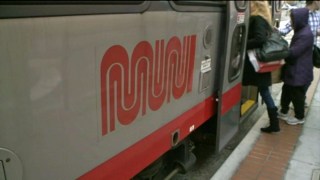 State transportation officials have awarded San Francisco $45 million in funds to help finance the purchase of new light-rail vehicles, city officials announced Monday.
The grant, awarded by the California State Transportation Agency from cap-and-trade funds, will pay for 10 of 64 new trains the San Francisco Municipal Transportation Agency plans to purchase to expand its light rail fleet, officials said.
The SFMTA has awarded a $648 million contract to Siemens that calls for 150 trains to replace the existing fleet, as well as options for fleet expansion. The state funding will be matched with $166 million in local and regional funding.
The first of the new light-rail vehicles, which will have a new seat configuration and exterior design, are expected to be delivered by the end of this year. The new fleet is expected to produce 963,000 fewer tons of greenhouse gases over the life of the vehicles.
"By the year 2040, it is estimated that Muni will carry more than 1 million rides a day," SFMTA Director of Transportation Ed Reiskin said in a statement. "These new, state-of-the-art vehicles will provide additional capacity to support 250,000 trips and increase transit connectivity for millions of people throughout the Bay Area."
Mayor Ed Lee applauded the grant award.
"This funding represents a key investment in San Francisco's transit infrastructure as the City works to expand and replace its current light rail vehicle fleet, shorten travel times, and keep the system in a state of good repair," Lee said.