The mother of a teenage boy who was gunned down in San Francisco's North of Panhandle neighborhood nine years ago plans to hand out fliers in the area on Friday.
It is something Paulette Brown has been doing each year on the anniversary of her son's death in hopes of gathering new leads in the case.
"My son's life mattered," Brown said.
On Aug. 14, 2006, Aubrey Abrakasa was gunned down at Grove and Baker streets just after 3 p.m. The 17 year old was on his way to work when he saw six men with guns heading down his street to shoot someone else.
San Francisco: Mother of Teen Murdered in 2006 Searching for New Leads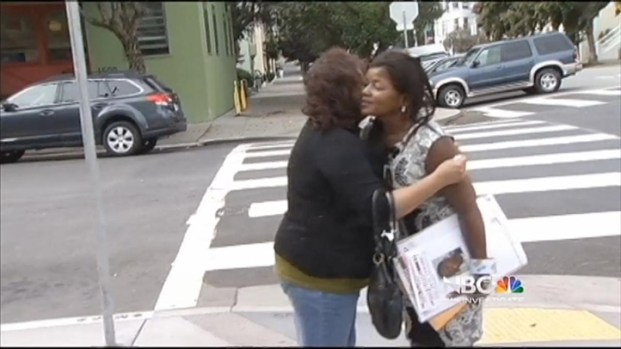 Abrakasa yelled for the targeted person to run. The group ran, but the gunmen shot Abrakasa 30 times.
"It wasn't like my son was in a gang," Brown said. "He died saving someone else's life."
Aubrey played high school basketball and was about to start his senior year at Raoul Wallenberg Traditional High School when he was killed.
"I just want some closure, I don't have any," Brown said. "I don't have any answers. No one wants to come forth."
George Jurand with the San Francisco Sheriff's Department's re-entry project said his goal has become Brown's goal: to find justice for Aubrey.
"It's a shame because people were around here because it was broad daylight," Jurand said. "They won't come and step forward."
There's a $250,000 reward for leading to the arrest and conviction of Abrakasa's killer.
Authorities said witnesses are afraid to come forward because of today's snitch culture.
"How long is our silence going to continue killing our children?" Brown said.
Browns said there are over 100 unsolved killings in San Francisco. She is an advocate for all of them and has hope her son's killer will be tried and convicted.
"I don't know how long. I don't know if it's going to be in my lifetime, but I do have hope," Brown said. "That's why I continue to do this."
Brown said she knows who killed her son and she believes police do too. She said the only way for this cold case to be solved is for witnesses to step up and testify.
NBC Bay Area's Jean Elle contributed to this report.