A massive manhunt continues late Thursday for two fugitives who cut jail bars and rappelled out of their second-story cell window in the oldest section of the Santa Clara County Main Jail on Thanksgiving eve, officials said.
Santa Clara County Sheriff's spokesperson Sgt. Rich Glennon said there were four inmates who cut the bars in their cell window in the oldest part of the main jail around 11 p.m. Wednesday and escaped with the help of bed sheets and clothing. A deputy on patrol noticed the clothing hanging from the window and two of the inmates were immediately caught. But two others got away. It is unclear how the inmates got their hands on tools to cut the window bars, Glennon said.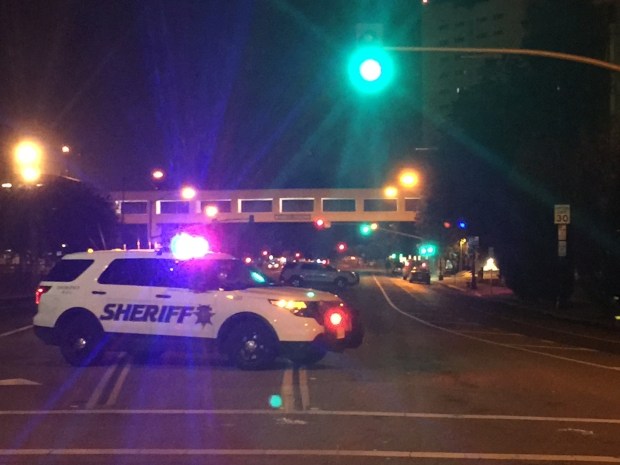 Massive Manhunt For Santa Clara County Fugitives
The first inmate who escaped is 33-year-old Rogelio Chavez, who stands about six feet tall, weighs 190 pounds and has the letter B tattooed on the left side of his neck. He also has a line tattooed over his left eye. Glennon said he was held since Aug. 17 on various charges including burglary, extortion, false imprisonment, resisting arrest, and firearms violations.
The second escapee is 26-year-old Laron Desean Campbell. He is about six feet four inches tall and weighs 210 pounds. Campbell was held since February 2015 on various charges including robbery, false imprisonment, criminal threats and firearms violations, records indicate. Sheriff's officials had originally misspelled his name as Lanon.
Both escapees were last seen wearing their orange prison tops with gray pants.
Glennon said it's not clear whether the inmates were armed, but they should be considered "dangerous and desperate."
San Jose police increased patrols at nearby neighborhoods, and also stepped up patrol for San Jose's annual Turkey Trot race. About 200 police officers took part in the annual Silicon Valley event.
The Santa Clara County Sheriff's office tweeted out photos of the escaped inmates at 3:04 a.m., asking the public to call 911 if they were spotted. The sheriff's office during the initial search for the escapees used its helicopter as well as multiple K-9 units from a number of law enforcement agencies.
"The main thing is we're asking for the public's assistance – there's an active search going on," Glennon said. "There has never been an escape from Main Jail South in this kind of fashion. Anyone willing to escape from jail is desperate, don't try to apprehend them, but notify law enforcement if you see them."
Deputies and officers searched for more than 10 hours for the escapees in a massive perimeter set up around the jail. Investigators later determined the inmates got away from the area and the manhunt expanded to the entire county.
The escape was not caught on camera because there are no cameras in the part of the jail the inmates were living. Sheriff's deputies said this particular section is older, and was constructed in the 1950s.
The sheriff's office released photos Thursday afternoon that show what is left of a steel bar that was hack sawed from the second-floor cell of the main jail.
"The fact these bars were cut the way they were, it wasn't something they thought of in a minute," Glennon said. "It's something that probably took some previous planning."
Sources from inside the jail told NBC Bay Area it's possible the inmates had help in getting away.
The sheriff's office, the San Jose Police Department, and the Sunnyvale Department of Public Safety are actively searching for the pair both on the ground and in the air.
Anyone who sees the pair should call 911. Anyone who knows where they might be should call 408-808-4500 or the anonymous tip line at 408-808-4431.
SCC Sheriff's Office is currently working an escape from the Santa Clara County Main Jail. If you see either of them, call 911 immediately pic.twitter.com/F1n5Cvbciv

— SantaClaraCoSheriff (@SCCoSheriff) November 24, 2016
#BREAKING Two inmates escape main jail in downtown #SanJosepic.twitter.com/J3mYNoSBL1

— Bob Redell (@BobNBC) November 24, 2016
LIVE on #Periscopehttps://t.co/sky3Y7GMBh

— Kris Sanchez (@KrisNBC) November 24, 2016
#Jailbreak from @SCCoSheriff main jail; Sgt Rich Glennon says there are no cameras that captured is escape pic.twitter.com/NL805LE2mN

— Kris Sanchez (@KrisNBC) November 24, 2016
Turkey Trot organizers say race will go on, not affected by escaped inmates situation. 100+ officers will be here for security @nbcbayareapic.twitter.com/zco9ptmIQh

— Pete Suratos (@PeteSuratosTV) November 24, 2016
.@SCCoSheriff says 4 inmates escaped the main jail out of this cell window. 2 suspects still at large. pic.twitter.com/EIb34QkxXw

— Michelle Roberts (@Michelle_NBC) November 24, 2016
NBC Bay Area's Damian Trujillo contributed reporting.