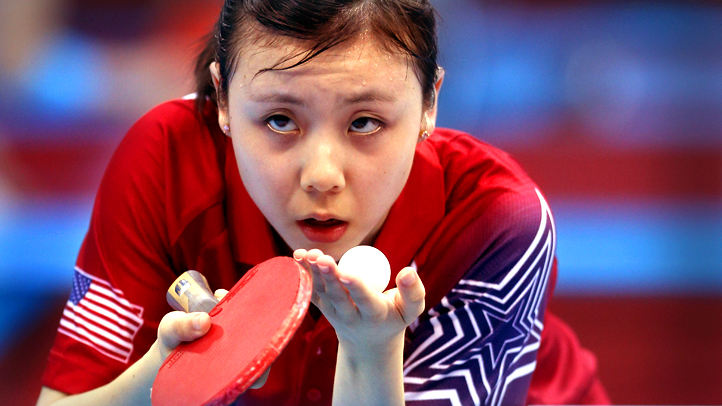 San Jose's Ariel Hsing faced off against the Number 2 singles women's table tennis player in the world Sunday night in London - and lost 4-2.
The Valley Christian High School teenager took the reigning world table tennis doubles champion, Li Xiaoxia of China, to the wire, losing the best of seven match. Hsing lost 4-11, 11-9, 6-11, 11-6, 9-11.
Though she lost, it was still an incredible upset; the teen had been ranked No. 115 in the world.
On the TeamUSA.org website, Hsing thanked the crowd, and said she really respected Xiaoxia as "one of my idols. Skill-wise, she is obviously much better."
Getting to the round is still a stunning accomplishment for the 16-year-old Hsing, who trains at the India Community Center in Milpitas, and is close enough to Bill Gates and Warren Buffett to call them both "uncle." In fact, Microsoft's Gates was there, and he said, "great job, you were so close!" after the match, according to Mark Purdy of the Mercury News.
She shocked pretty much everyone, including herself, when she beat 49-year-old Ni Xia Lian of Luxembourg earlier Sunday.

Ni Xia Liant was a much more experienced player and the clear favorite, but the youngster shined and won the match 11-9, 10-12, 11-9, 11-5, 10-12, 12-10.
She told reporters before Sunday night's match she wouldn't be "destroyed" if she loses to Xiaoxia.

"It is a little bit daunting but she is probably more nervous than I am," Hsing told Reuters. "She has to play against a 16-year-old girl in her first round. That must be a little bit strange for her."

Hsing began playing table tennis at age 7 and by 15 won the 2010 U.S. national championship.
The teen's introduction to the game was kind of an accident. Her mom played as a child and one day when they couldn't find a babysitter for Ariel, they paid a visit to the local club.
Ariel instantly fell in love with the sport and has played ever since. She recently told KLIV's Shawn Murphy that the one thing she will do while in London is see Les Miserables for the first time.
Her fellow Bay Area competitors Lily Zhang and Timothy Wang both lost. All three train at the India Community Center in Milpitas.

Here is a report from NBC Bay Area as Hsing practiced for the London Games earlier this month.