Update: The cellphone of Angela Hernandez, the missing Oregon woman, last pinged in Monterey County. Gas station surveillance video caught an SUV similar to Hernandez's passing by Highway 1 in Carmel Highlands on Friday morning. The last cell ping was near Garrapata State Beach, near Wildcat Canyon, on Friday at 9:30 a.m. Monterey search and rescue were called out there at 1 p.m., and the search continued Thursday.
Anyone who's seen Hernandez or her white Jeep Patriot should contact Sgt. Murray with the Monterey County Sheriff's Office at 831-755-3722.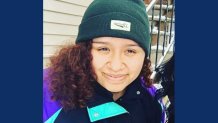 Authorities in coastal San Mateo and Santa Cruz counties are searching for a 23-year-old woman from Portland, Oregon, who is believed to be missing after her family lost contact with her since Friday when she was in Half Moon Bay.
Angela Hernandez was traveling from Oregon to Southern California to visit family when her daily correspondence via phone calls and texts suddenly stopped, San Mateo County sheriff's officials said Monday.
Before her disappearance, Hernandez's family was used to talking with her and texting with her multiple times a day as she traveled. Not hearing from her in three days is extremely out of character for her, family members said.
On Thursday night, Hernandez told her family she was tired and would spend the night in a Safeway parking lot in Half Moon Bay before continuing her trip Friday morning. She was on her way to visit her sister Isabel in Lancaster, sheriff's officials said.
"It's really confusing to us," Isabel said. "My whole family, we're very worried. ... It's scary when you just don't know what's happening. Your mind just starts doing stuff to you and making you think all these things, and we're hoping for the best, and we're trying to keep hope."
Hernandez is believed to be driving south in her white 2011 Jeep Patriot with Oregon plates, her last known whereabouts possibly in the Davenport area, north of Santa Cruz. But signs of her location and communication have stopped, sheriff's officials said.
Santa Cruz County sheriff's deputies assisted with the search Monday, flying a helicopter along the coast and using infrared cameras in case their was a crash.
"It's too early to speculate if foul play was involved, but the circumstances surrounding her disappearance are definitely suspicious," San Mateo County sheriff's spokeswoman Rosemerry Blankswade said. "It's suspicious to us and to the family."
A #findAngelaHernandez campaign is offering a $10,000 for information leading to her whereabouts, according to the sheriff's office.

Anyone who has seen Hernandez or her white Jeep should call Detective Currie at 650-363-4051 or the anonymous tip line at 800-547-2700.