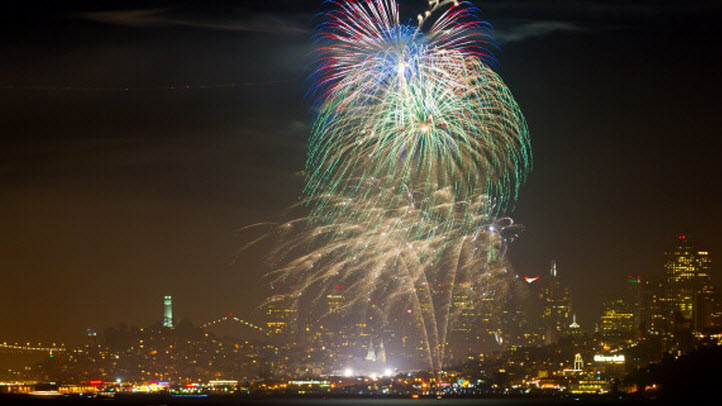 Need help figuring out what to do on New Year's Eve? Tired of hosting parties and then being left with the clean up? Fret not, there are plenty of events in the Bay Area – from kid-friendly to more mature outings – that will help you ring in the New Year.
Check out this interactive map, which features more than 60 New Year's Eve events. The map has been coded, so you can easily sort through parties that are right for you, your family and friends.
Reading the Map:
Events pinned with a parent and child symbol are family-friendly festivities, such as the party at the Chabot Space and Science Center. Little ones might also enjoy San Francisco's fireworks, so areas that provide a nice view of the display have been marked on the map with a red "boom" symbol.
The map also includes plenty of events that cater to a more mature audience. Parties symbolized by a music note indicate a New Year's Eve bash that is at a nightclub or venue where there will be live music and dancing. Meanwhile, the cocktail icon represents just a few of the many bars that will be open on New Year's Eve – most of which offer low cover and admission charges compared to their nightclub counterparts.
If cost is a concern, avoid the icons with the dollar sign symbol – anything that costs more than $100 per person gets this icon. Firework cruises and exclusive parties – though surely fun – usually fall into this category.
Meanwhile, if you want to go somewhere more tranquil, check out events with the theatre mask icon. Those symbols have been used to indicate comedy club parties, lowkey events, and even a few meetings at Zen centers or other places that advertise themselves as being perfect for a quiet night out.
A festive dinner might also be an ideal way to celebrate 2016. Check out the icons with the knife and fork symbol, which are used to highlight restaurants that will be offering specially- themed menus on Dec. 31. If you don't see anything you like, check out a more comprehensive list of bay area restaurants that will be open on New Year's Eve over at Open Table.
Transportation:
Several companies and public transit systems are offering special deals for people who plan to go out on the town for New Year's Eve. According to Forbes magazine, New Year's Day is "one of the single most dangerous days to be on the road all year," just behind Thanksgiving and the July 4th weekend. To stay safe, appoint a designated driver or take advantage of some of these discounted deals – none of which enact "surge prices," thankfully.
Berg Injury Lawyers are footing the bill for cab rides up to $35 in San Francisco and Sacramento from 10 p.m. Dec. 31 to 4 a.m. In order to qualify, all cab rides must be called in advance. Some conditions apply: the cab will not transport riders from bar to bar; the deal is intended to ensure patrons get home safely. Check Berg Injury Lawyer's website for details.
BART will be running until 3 a.m. on New Year's Eve. So, unlike ol' Cinderella, you can stay at the ball past midnight and still have a carriage to take you home – or, at least, to the station closest to home. For BART times, check out the transit's website.
Caltrain will be running on its regular weekday schedule and is adding four post-firework rides departing from San Francisco Station every thirty minutes from 12:45 a.m. to 2:15 a.m. 12:45 a.m. Free fare hours will be from 8 p.m. to 5 a.m. Check Caltrain's website for details
AAA Tipsy Tow program is offering a free tow to Northern California drivers on New Year's Eve from 6 p.m. Dec. 31 to 6 a.m Jan. 1. You don't have to be a AAA member to reap the benefits of the tow program, though the deal is only free up to 10 miles, meaning a charge will come with every additional mile. For more information on Tipsy Tow, check out the details at SF FunCheap
Downtown Oakland's Free B Downtown Shuttle will be running every 10 to 15 minutes from 7 a.m. Dec. 31 to 1 a.m. Jan. 1 between Embarcadero West and 27th street. This ride is perfect for those of you who hope to hop between different bars. For information and bus routes, check the Shuttle B website.
SF Muni is offering free rides on all lines and routes from 8 p.m. Dec. 31 to 5 a.m. Jan 1. However, some routes will stop after 4 a.m. Click here for more details, including routes and schedules.
For people celebrating the New Year in San Mateo, SamTrans is offering free service from 8 p.m. Dec. 31 to 5 a.m. Jan 1. Redi-wheels will also be offering free rides to party goers, according to the Sam Trans website.
So, there you have it. With a slew of events and plenty of ways to get home safely, there's no reason why you can't commit to having a happy – and safe – New Year's Eve.