Ex-Stanford University student Brock Turner registered as a sex offender on Tuesday in his hometown of Bellbrook, Ohio, four days after he left a San Jose, California, jail after serving three months for felony sexual assault.
Carleen Turner tried to shield her son's face with her white sweater, as the 21-year-old walked into the Greene County Sheriff's Office Tuesday morning to sign the paperwork — with a bank of reporters trailing his move. Turner took his sunglasses off to sit down and fill out the necessary forms on a clipboard. He did not speak publicly, driving off in a white SUV, refusing to answer questions about whether he wanted to apologize or what he would do about work.
He will remain on the sex offender's list for the rest of his life.
Greene County Sheriff Gene Fischer said all of Turner's neighbors will receive a notification letter informing them that a sex offender is moving in nearby.
"We're required to check in on him, and we exceed our requirements sometimes, so we will check on him and make sure he's living where he's supposed to," Fischer said.
Before sentencing, Turner's mother had written the court asking the judge not to send her son to prison or jail, saying that would be a "death sentence."
"This is his future life," she wrote. "I beg of you, please don't send him to jail/prison. Look at him. He won't survive it. He will be damaged forever and I fear he would be a major target. Stanford boy, college kid, college athlete - all the publicity.... this would be a death sentence for him. Having lost everything he has ever worked for his entire life and knowing the registry is a requirement for the rest of his life certainly is more than harsh.... Your honor, please be kind and merciful to my beautiful son. He is suffering and will continue to pay for this for his entire lifetime."
Since Turner returned to his hometown in Ohio, his neighbors have been anything but welcoming. Some of them brandished rifles, carrying the guns under the state's open carry laws to send the message that Turner's actions will not be forgotten. The armed protesters stress they are not threatening to harm Turner, unless they catch him committing another crime. They say it's their form of justice and a way to keep Turner on edge.
Turner walked out of the jail in San Jose Friday morning after serving three months of a six-month sentence for sexually assaulting an unconscious woman after a fraternity party at Stanford in January 2015.
Santa Clara County Superior Court Judge Aaron Persky handed out the sentence in June after a probation officer recommended that prison would have a severe impact on the former Stanford swimmer. Persky has since been under fire for being too easy on Turner, who could have received a 14-year prison term for his crimes. Many rallies have been held in Silicon Valley against both the judge and Turner.
Meanwhile, the committee of Bay Area organizers working to recall Persky say they don't agree with the armed protesters in Ohio but believe Persky is responsible for creating a more vigilante environment.
In her letter to the court, Carleen Turner noted that her son "is suffering" and "will continue to pay for this for his entire lifetime."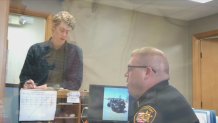 Wire services and NBC Bay Area's Rick Boone and Stephen Ellison contributed to this report.