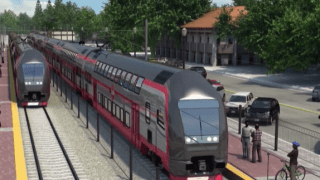 Caltrain, a key commuter line along the Peninsula from San Francisco to the South Bay, may be facing a full shutdown after a bid for a sales tax ballot measure failed to advance this week.
The measure required approval from leaders in San Francisco, San Mateo and Santa Clara counties, but the San Francisco Board of Supervisors' representatives on the Caltrain board chose not to present the proposed tax to their fellow supervisors, officials from multiple agencies confirmed on social media.
San Francisco Supervisor Shamann Walton on his official Twitter account pointed to inequities in Caltrain's governance and said "pushing a dedicated sales tax without a commitment to fixing this is tantamount to agreeing to taxation w/o representation. SF has no true decision making over CalTrain."
State Assemblyman Kevin Mullin in a tweet said San Francisco supervisors' failure to act while the agency is in such dire straits is "endangering commuter service for parochial reasons. Irresponsible for a regional 'partner.'"
At the start of the coronavirus pandemic, Caltrain ridership plunged from nearly 65,000 daily riders to just 1,500, according to SF Gate. Last month, the agency said the daily number was about 3,200 a day.
Caltrain relies heavily on revenue from riders' fares, and the sales tax would provide a lifeline as the coronavirus pandemic continues.