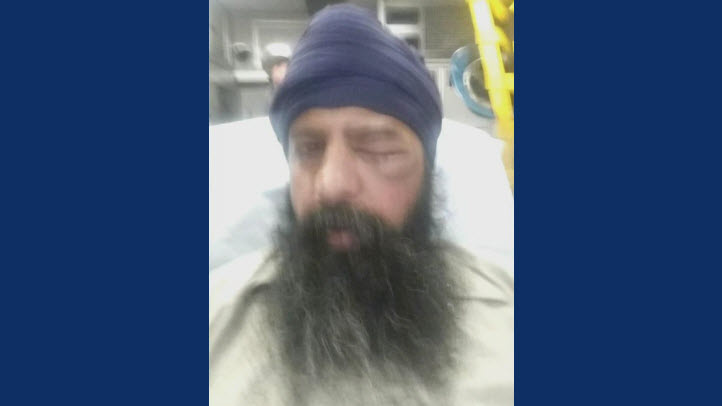 The Contra Costa District Attorney's Office has charged Chase Little and Colton Leblanc with assault and hate-crime charges in the brutal attack of a Sikh man in Richmond.
Maan Singh Khalsa, 41, was viciously attacked by a group of men while waiting at a red light on the night of Sept. 25. The men, who were in a pickup truck, began to attack him by throwing a beer can at his car, and cursing and yelling at him. They then followed him to a second red truck, pulled his head out of the window, forcibly removed his turban and cut off his long hair, authorities said. Police said the attack was unprovoked.
Khalsa's finger will have to be amputated after it was severely injured during the attack.
Sheriff's deputies arrested Little, 31, of Texas, and Dustin Micheal Albarado, 25, of Louisiana, former contractors at the Chevron Richmond Refinery, on felony assault charges. A third suspect escaped.
Leblanc, the second man charged, is a previously unidentified perpetrator. Albarado has been cleared of criminal liability and will not be charged, the district attoeny's office said.
Khalsa, a father, and an IT specialist, released a statement via the Sikh Coalition's official Twitter account, saying: "The assailants violently targeted my Sikh faith. I'm thankful to the Richmond Police Department, Contra Costa County District Attorney Mark Peterson and the Sikh Coalition for ensuring that my attackers were charged with hate crimes. The charges are the first step to addressing violence and bigotry, which plague communities across the United States."
Thirty advocacy organizations are demanding justice for Khalsa - they believe he was the victim of what authorities are calling a hate crime because he wears a turban.
Signatories include the Alliance of South Asians Taking Action, National Religious Campaign Against Torture, Sikh Coalition and Take on Hate.
"They were beating his face mercilessly," said Harsimran Kaur, the Sikh Coalition's legal director and Khalsa's attorney. "His turban got knocked off and they yelled, 'Cut his f***ing hair!' and one of them cut his hair with a knife."
Khalsa told police that he believes the men targeted him because they mistook him for a Muslim, the police report showed.
In a statement the Sikh Coalition said that Sikhs remain "hundreds of times more likely to be targeted in cases of profiling, bigotry and backlash than the average American," in the 15 years that have followed 9/11. The organizaton stressed Sikhism, the fifth largest religion in the world, has been an integral part of the American fabric for over 125 years.
"The purpose of prosecuting bias-motivated assaults as hate crimes is not to impose harsher penalties," Kair said. "Instead, the purpose is to mitigate hatred in our society and ensure that we are all free to safely pursue the American dream regardless of our race, ethnicity, or religion."
Hate crime charges filed by @ContraCostaDA in Mr. Khalsa's assault. Critical first step to combating hate. More: https://t.co/cjw064dRih pic.twitter.com/NjefNU7P3v — Sikh Coalition (@sikh_coalition) October 14, 2016
Sikh Assaulted, Hair Cut; Urges Hate Crime Investigation: https://t.co/2dn01Tk9jw pic.twitter.com/zTpYMbxWvs — Sikh Coalition (@sikh_coalition) October 7, 2016