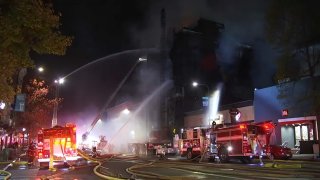 Nearly 100 firefighters battled a major six-alarm fire Saturday evening at a multi-story apartment building under construction in downtown Berkeley.
The fire, in the 2000 block of University Avenue between Milvia Street and Shattuck Avenue, was reported shortly after 6 p.m. Originally designated as a two-alarm fire, Berkeley firefighters eventually upgraded the incident to a six-alarm fire, receiving mutual aid from fire departments in neighboring Oakland, Piedmont, Emeryville, Albany and El Cerrito. The Alameda County Fire Department also assisted.
Residents in neighboring apartment buildings were evacuated as a precaution. Berkeley fire officials said none of the existing buildings ended up being damaged by the fire.
There are no reports of injuries.
Much of the fire has been extinguished, but firefighters will remain on scene through the evening to extinguish hot spots.
The cause of the fire is unknown at this time and will be under investigation.
Both directions of University Avenue remain closed between Milvia Street and Shattuck Avenue. The location of the fire is two blocks west of the University of California, Berkeley.