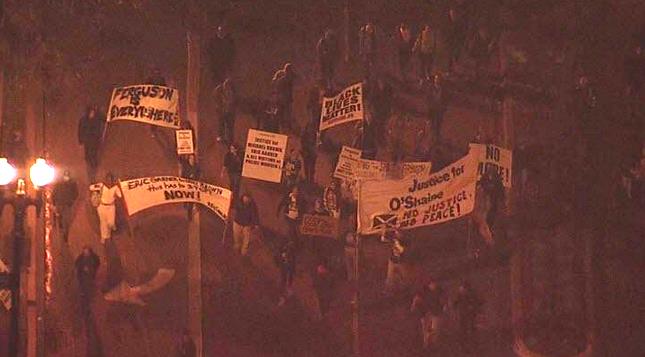 Protests are taking place in Oakland and in San Francisco Wednesday evening in response to a New York grand jury's decision not to indict a New York City police officer in the death of Eric Garner, an unarmed black man who died while in a police chokehold restraint.
In San Francisco, protestors temporarily blocked Market Street at Powell Street and staged a die-in near the Powell Street cable car turnaround.
Protesters late Wednesday also temporarily blocked lanes of Interstate 101 in East Palo Alto.
In Oakland, hundreds of protesters gathered near the corner of 14th Street and Broadway at about 5 p.m., chanting "Justice for Eric Garner."
The NBC Bay Area helicopter spotted protesters starting to march through downtown Oakland just before 5:30 p.m.
Protesters marched down Broadway and were stopped by a line of officers in riot gear before reaching police headquarters. The group then marched through downtown.
The Bay Area protest follows other demonstrations that erupted in New York City after the grand jury's decision Wednesday not to indict NYPD officer Daniel Pantaleo, who was seen on amateur video wrapping his hand around Garner's neck July 17 as the heavyset, asthmatic man gasped for air.
Similar protests went on for three days last week after a Missouri grand jury chose not to indict police Officer Darren Wilson for shooting and killing 18-year-old Michael Brown in August. About 2,000 people participated on Monday with smaller crowds gathering on Tuesday and Wednesday.
Oakland police made a total of 169 arrests as freeways were blocked, fires were set, windows were broken and businesses were looted.
Bay City News contributed to this report.