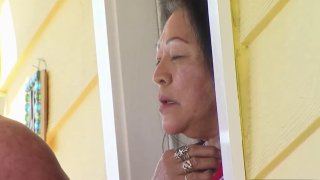 An employee opened fire Wednesday at a California rail yard, killing eight people before taking his own life as law enforcement rushed in, authorities said, marking the latest attack in a year that has seen a sharp increase in mass killings as the nation emerges from coronavirus restrictions.
The shooting took place around 6:30 a.m. in two buildings that are part of a light rail facility for the Valley Transportation Authority, which provides bus, light rail and other transit services throughout Santa Clara County, the most populated county in the San Francisco Bay Area. The facility in San Jose includes a transit-control center, parking for trains and a maintenance yard.
"When our deputies went through the door, initially he was still firing rounds. When our deputy saw him, he took his life," Santa Clara County Sheriff Laurie Smith told reporters. Deputies "were going through hallways saying, 'Sheriff's office!' He knew at that time that his time for firing shots was over."
His ex-wife, Cecilia Nelms, told The Associated Press that Cassidy had a bad temper and would tell her that he wanted to kill people at work, "but I never believed him, and it never happened. Until now."
Nelms, teary-eyed and shaken by the news, said her ex-husband would come home wound up and angry about things that happened at work. As he talked about it, "he would get more mad," she said. "He could dwell on things."
When Cassidy lost his temper, Nelms said there were times she was scared. He was someone who could physically hurt others, she said.
Nelms said they were married for 10 years — Cassidy filed for divorce in 2005 — and had not been in contact for 13 years. She said he had been treated for depression.
Copyright AP - Associated Press