One of the two inmates who broke out of jail in Santa Clara County, California, using bedsheets to rappel down to the ground the day before Thanksgiving was caught — after he fell out of the attic — at his sister's house in Antioch.
At a news conference on Wednesday, Undersheriff Carl Neusel said that 26-year-old Laron Desean Campbell was hiding out his sister's attic when he "crashed through the ceiling" and was arrested on Tuesday about 10 p.m. by the U.S. Marshals Service and Antioch police. NBC News was the first to break news of Campbell's arrest.
A tip led authorities there, Neusel said, and some of $20,000 reward money will be shared with the person or people who helped the sheriff's office, he said. He said he wasn't sure how the money would be divided at this point.
Campbell's sister, Marcaysha Alexander, 24, was also taken into custody on allegations of harboring her brother. Jail records showed on Wednesday that she was being held in the women's correctional facility of the Santa Clara County Sheriff's Office. Neither brother nor sister responded for interview requests through the jail on Wednesday.
One fugitive, Rogelio Chavez, 33, of San Jose, is still outstanding from the Thanksgiving eve main jail escape. And Neusel said "no stone will go unturned" in trying to find him. Chavez has the letter B tattooed on the left side of his neck and a wavy line tattooed over his left eye. Chavez had been in jail since Aug. 17 on various charges including burglary, extortion, false imprisonment, resisting arrest, and firearms violations.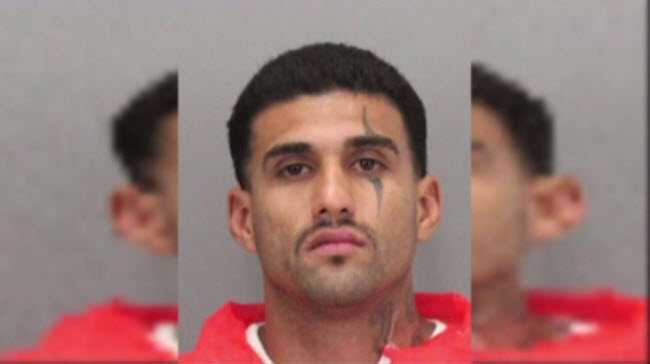 Neusel said the cutting tools used to saw off the jail window bars have not been found, but preliminary findings revealed that jail staff committed "no significant policy violations," Neusel said.

He noted that the jail is old — the part where the escape happened was built in the 1950s — and his administration is "eagerly" awaiting the construction of a new facility approved by the county board of supervisors.

Cameras, which are currently nonexistent in this part of the jail, would have recorded the men's escape are part of the new renovation plan, he said.
The news of at least one fugitive's arrest brought relief to Cassidy Ahern, who said she witnessed Campbell's takedown from where she was standing at the Twin Creek Apartments on James Donlon Boulevard.
"I was on my balcony," she said. "I was hanging out with my friends and we saw all the lights out there and we went down to see what was going on. I mean, we didn't go super close, because after you see all the people out there you want to stay away."
The capture of Campbell on Tuesday night came hours after Santa Clara County sheriff's deputies swarmed an east San Jose neighborhood in the afternoon looking for one of the inmates— it wasn't immediately clear if that search was for Campbell or Chavez. On Sunday, deputies swarmed a Gilroy Days Inn, hoping to find Chavez, which they didn't.
Campbell and Chavez made national news on Nov. 23 about 11 p.m., when they made a daring escape from Santa Clara County Main Jail, using bedsheets to rappel down their second-story jail cell window. Campbell had been held since February 2015 on various charges including robbery, false imprisonment, criminal threats and firearms violations. As of Wednesday morning, Campbell had not yet been charged for the jail escape.
Ahern, who saw Campbell being taken into custody, said she wishes the whole ordeal would be over.
"I mean it's kind of scary," she said, "I mean, when you're just sitting outside and you don't expect that kind of thing to happen with all the officers and cop cars and it's kind of nerve wracking."