Olympic swimmers and divers from Stanford held a meet-and-greet with young fans Thursday at Avery Aquatic Center, signing autographs and posing for pictures before they get set to leave for Rio de Janeiro to compete for Team USA next month.
A long line of excited young fans got to meet with the likes of Maya Dirado, Simone Manuel, Lia Neal and Kristian Ipsen. In all, seven athletes tied to the prestigious Palo Alto campus are heading to Rio, including one competing in the Paralympic Games.
"I was a huge swim fan when I was younger so I totally understand the excitement," said Dirado, a 2014 Stanford graduate who will compete in three events at Rio.
Manuel, who will swim in four events, shared how she will be preparing for next month's competition.
"We're just training really hard to get back into the groove of things and try to improve and become faster in Rio," Manuel said. "And we will just embrace the journey and the time with the team."
Ipsen won a bronze medal in the 3-meter synchronized diving event at the 2012 London Games. Though he's already had that experience, he's as excited as ever to once again be on the world stage.
"It's an amazing feeling," he said. "Especially after all the hours that we put in at the pool every single day, when you finally see your name up on the board that you're going to the Olympics, it makes it all worthwhile."
He said the next few weeks leading up to the Games will be about making small adjustments and refining.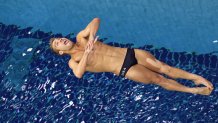 "You don't want to make huge changes in your training," Ipsen said. "For me, I'm going to go back and currently work on some new dives, trying to tune up my technique, tune the things I felt weren't as great at trials and hopefully make them perfect at the Olympics."
Four years ago, Neal was a bronze medalist in the 4-by-100 freestyle relay at London. She and Manuel represent the first time two African-American women have been on the U.S. Olympic swim team together.
"I think it's great for the sport of swimming to become more diverse and also for kids to become water safe," Neal said.
The athletes are expected to leave next week, with two training stops before landing in Rio.