When Sallie B. lectures to her weekend class about marijuana, she likes to make her spiel as accessible as possible. The chef starts by explaining the effects of cannabis-infused butter, and then she demonstrates how to cook with it.
"You want to make sure you're making it correctly so that you don't get sick," Sallie begins the lecture, hoisting up a jar of green-tinted butter for the class to see. "And it's important that you know your dosage..."
Roughly 25 students soon start cooking in the Cannabis Creatives warehouse in Oakland, tossing heaping pats of canna-butter into sizzling saucepans.
Meanwhile, Sallie, the proprietor of edibles company Slim's Baked Goodies, bounces from table to table to answer a litany of questions. Heavy smoke floats in the air throughout the two-hour course, but most isn't coming from the cooking stations; there are, at any given time, multiple joints, bongs and vape pens circulating around the room.
So goes the structure of every Puff, Pass, and Pastry class, which is run by Colorado-based company Cannabis Tours. By the end, participants will have made a hodgepodge of cannabis-infused treats, including frittatas, sweet cakes and french toast.
The Sunday cooking class is just one of many pot-centered workshops that have cropped up in the Bay Area following California's legalization of the once-taboo plant in November. There are yoga, painting and pottery classes, even glass blowing classes, and they all aim to do something similar: combine the novelty of legally consuming cannabis in public spaces with traditional pay-to-play activities.
Heidi Keyes, the co-founder of Cannabis Tours, runs sister workshops in Oregon, Las Vegas and Colorado and advocated for pot's legalization in California. A longtime pot consumer, she said she entered the industry because she wanted to "normalize cannabis use" and stop it from being relegated to doctors offices and back-alley deals.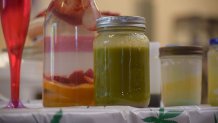 "We want to encourage people to just relax in a way that they haven't been able to before, especially before it was legal here and other places," Keyes said. "It's about providing a safe space for cannabis consumption, meeting new people, passing joints. Just being able to smoke weed if you want to."
Sallie, who began incorporating cannabis into her recipes after a cancer diagnosis, attached herself to the course in an attempt to educate others about the plant.
"The biggest misconception about edibles is that people think, 'if I eat an edible, I'm going to be asleep for days," she said. "I think people don't understand cannabis as much as they consume it, so this class gives me an opportunity to teach them about the different strains, and how to get a good effect."
The business venture has been undeniably profitable for Keyes, Sallie and other so-called "cannapreneurs," a portmanteau referring to the business owners who have capitalized on pot's legalization. Tickets to the cooking class cost $69 each, and the painting and pottery classes aren't much cheaper. All told, the profits help contribute to a booming California industry valued at over $7 billion.
Keyes attributes the success of the courses to a previously-untapped niche market. In short, she believes that a group of people — mostly longtime pot enthusiasts — had been waiting for these types of communal spaces, and are now ready to open up their wallets for the experience.
"There hasn't really been anything like this before," she said. "I think people have really been looking for opportunities to consume legally and make friends at the same time. A lot of people who come to our classes aren't big drinkers, but they still want to go out and do something social. That's where our classes come into play."
Nadia Ibanez, 32, said she falls into both categories. But the San Francisco woman chose to attend the cooking class in lieu of the alternatives because it advertised a learning opportunity.
"I've never cooked with cannabis, never made edibles," said Ibanez, who has been smoking pot for about a year. "So I wanted to come and see what skills I could take to my own kitchen."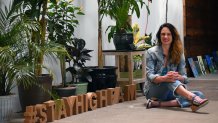 Despite support from attendees, people within the medical community have taken issue with the rise in cannabis-themed courses.
The specter of novices making edibles at home is what worries Dr. Rachna Patel, who owns a medical practice in Walnut Creek and studies marijuana use. She's seen the horror stories of people overdosing on edibles, and they're not the comical situations that YouTube videos would lead one to believe.
"Edibles are tricky," Patel said. "A part of me is very much in favor of patients making their own products because they know exactly what goes into them. But the downside of it is, it's going to be difficult to figure out how much is too much."
Patel notes that the side effects can include extreme paranoia and impaired body movement. If someone wants to learn about edibles, they should see a doctor, not attend a cooking class, she quipped.
That warning doesn't discourage Keyes, who believes legalization signaled a cultural shift in the way cannabis is perceived by non-users. Making the plant palatable — or merely acceptable — will help make it safer, she opined.
"People are beginning to realize that there is no typical stoner; there's no typical cannabis consumer," Keyes said. "A lot of people have had to hide their cannabis use their entire lives...so what we're seeing now is people coming forward and being more open about it."
"And I think, going forward, we're going to be seeing more of that," she continued. "It's just not something people feel they have to hide anymore."