Uber, Lyft -- and now Google.
With no drivers, to boot.
The Mountain View search engine and advertising giant is reportedly working on an Uber competitor, with Google employees already using an app-hailed ride service, according to Bloomberg Business.
Google is working on multiple ventures, including a driverless, self-driven car. Google is also an Uber investor, after the company sank $258 million in Uber in 2013.
Bloomberg believes that Google's ride-hailing service will be launched "most likely in conjunction" with the "driverless car project."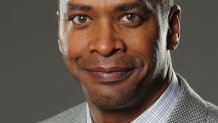 The project is so real that Uber is close to asking David Drummond, Google's chief legal officer who has sat on Uber's board since 2013, to resign his position, Bloomberg reported.
Multiple companies are working on driverless cars, but Google's emergence as an Uber competitor rather than a partner might spell trouble for the San Francisco-based Uber.
Copyright FREEL - NBC Local Media