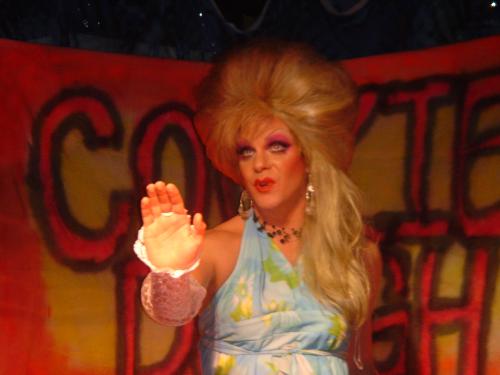 Better known for the glitz and glam of theatrical performance, Glendon Hyde also volunteers as a community activist focused on housing issues in San Francisco.

So it's on the strength of that record that Hyde, better known as drag performer Anna Conda, plans to run for San Francisco Supervisor in 2010.
He will most certainly need the drive that caused him to take home the blue ribbon in 2004's Miss Trannyshack competition to make it happen.

The race for city supervisor in San Francisco's District 6 is getting as crowded as Trannyshack on a Saturday night.

Human Rights Commissioner Theresa Sparks is considering a run, as are the School Board's Jane Kim and local activists Jim Meko and Debra Walker.

Hyde has beaten them all to the punch in actually filing the necessary paperwork.

Chris Daly, who currently represents the district which includes parts of the Tenderloin and SOMA neighborhoods, is termed out next year.

In a statement to SFist, Hyde laid out his goals if elected to office.
I have been a vocal advocate against expecting the middle and lower classes to shoulder expenses due to mismanagement and missed opportunities from the wealthy and corporations. I want to raise revenues in the city that go directly to helping schools and housing the homeless.
Even if you're not a housing policy wonk like Hyde, this race should prove wildly entertaining.
Photo by Kevin Goebel.
Jackson West still thinks the best show in town is at City Hall, and deeply regrets mistaking Ms. Conda for Ms. Sachet.
Copyright FREEL - NBC Local Media