Like the rest of the country, Bay Area voters waited in extra long lines on Tuesday to mark their ballots for the commander in chief, as well as many 17 California initiatives and a myriad of local issues.
It's what some voters wore to the polling stations on Election Day that turned heads.
The entire Albin family dressed in white when they showed up at their Lafayette polling station to mark their support for Hillary Clinton, who just might be the first female president of the United States.
"Uh, yeah!" Summer Albin said, after proudly posting her all-white outfit on Facebook, along with daughter, Iyla, 5 and husband, Jereme, who added #Imwithher #Suffragette-white and #ivoted to his post.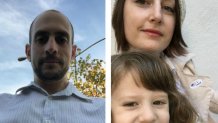 "I've been a suffragette junkie forever," Summer Albin said. "It's been a thing. I watch Iron Jawed Angles every year. But this election made it more important. I was going to wear my Futures Female T-shirt, but it's black."
She was referring to the 2004 historical drama about activists Alice Paul and Lucy Burns, who fought for women's right to vote in the early 1900s. "These women fought for the rights I hold dear," Albin said.
White is the color the suffragists wore in the early 20th century as they struggled for the right to vote. Clinton herself has worn a trademark white pantsuit on many occasions.
It was much harder to find Donald Trump supporter, let alone anyone dressed like him, throughout the blue Bay Area on Tuesday. But it wasn't impossible. Trump's California communications manager Jon Cordova lives in Danville and surely cast a vote for his boss.
Also, Bay Area News Group reporter Thomas Peele dressed in a Trump cap and walked around Oakland as an experiment earlier this fall, just to see what kind of reaction he'd get. Peele said got curious reactions, he wrote, and made sure to say that "no one spat."
But Trump fans were far overshadowed in the Bay Area by those brandishing these hashtags: #WearWhiteToVote, #NastyWomen and #PantSuitNation. In fact, an entire Facebook group with more than 2 million followers called Pantsuit Nation called on Clinton supporters to suit up in pantsuits on Election Day.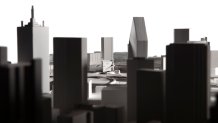 As for actually marking the ballots, some Bay Area voters complained of epecially long lines at polling stations early Tuesday morning. Some waited at least an hour to vote, as it took voters that amount of time to slog through the seemingly endless ballot.
Still, Albin said the entire process made her feel happy.
"It was beautiful," she said. "I obviously live in a community with like-minded people. It was nice to see smiling neighbors."