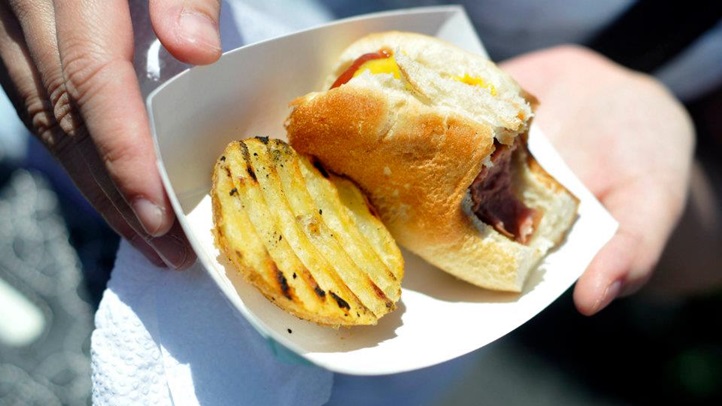 MAGAZINE AS MOOD MANAGER: Whenever things feel out of sorts, and we're quite sure we can't put together the nutritional yet economical dinners that we're told to put together by everyone everywhere all the time, and our yard is weedy, and our house is messy, we only need to thumb through the current issue of Sunset, the one sitting on our messy coffee table. Heck, it doesn't even have to be the current issue; it can be a Sunset from 1956 and the pages of the magazine will still soothe us with photos of people barbecuing and people relaxing on patios and people living the good outdoorsy Western life. In short? It's a magazine that makes you feel like you might just get it together, finally. It's not so aspirational as to make basic strides seem undoable, and yet the recipes and trip tips are still pretty dang elegant. And that it has a California vibe -- okay, a general West vibe (we won't flaunt our Golden State pride too much) -- makes it all that much more a part of La Vida Western Living. This makes the annual Sunset Celebration Weekend, which rolls at the magazine's Menlo Park HQ, kind of like a hometown party, in a way, but one filled with tips, hobnobbing, and delicious eats.
DATES AND DETAILS: The first question about the weekend, which is rolling on Saturday, June 1 and Sunday, June 2, is very often "who and what are on the stages?" Sunset demos the heck out of the weekend, as can be expected. Lessons in making spiced plum crostata and butter-poached spot prawns and fresh egg pasta are on the savory sked. There are tons of exhibitors, too, from the travel sort -- look for California visitors bureaus aplenty -- to cutlery companies to beverage purveyors. In short? It's pretty much Sunset Magazine come to life for a weekend. And since it is the singular publication that eases many a harried Californian's mind -- dinner and gardening and general upkeep *is* achievable -- spending a few hours within its pages doesn't sound half bad at all.
A general admission ticket is eighteen dollars.
Copyright FREEL - NBC Local Media