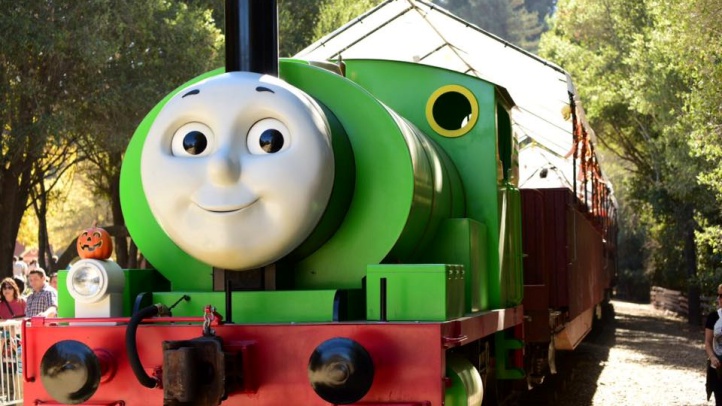 THE HALLOWEEN SEASON, it may be said, is rather rife with enchantment, and if we just know where to look, we might encounter something that will bring delight and stay with us for, well, always. For example: What if, as a child, you spoke with a favorite character from a book or a television show? You just might have, if you called upon a play or theme park. And, surely, the experience has lingered for you, even decades later. Such will be the case for kids calling upon...
ROARING CAMP RAILROADS... in Felton over the final three weekends of October 2018, if they adore a certain tank engine, and a certain tank engine's buddy. But coming across Thomas and Percy, if you're not in a place where tank engines gather, can be a bit tricky, and to find a festive Halloween theme built around their visit? Also not so easy. But, hooray: On Oct. 13-14, 20-21, and 27-28 both beloved British icons will appear, along with Sir Topham Hatt. It's...
THOMAS AND PERCY'S HALLOWEEN PARTY, which means that the young'uns are welcome to dress up in their favorite engineer outfit, or whatever costume they choose. Stories, face painting, cookie decorating, pumpkins (wee visitors are invited to pick out small ones), and more merry to-dos are on the schedule. Plus? There's that 20-minute train ride, too. A beautiful bonus? Being among the tall trees of Felton in October, a perfect month to visit. For tickets and more Halloween-y happiness, choo-choo to the Roaring Camp Railroads site now.
Copyright FREEL - NBC Local Media