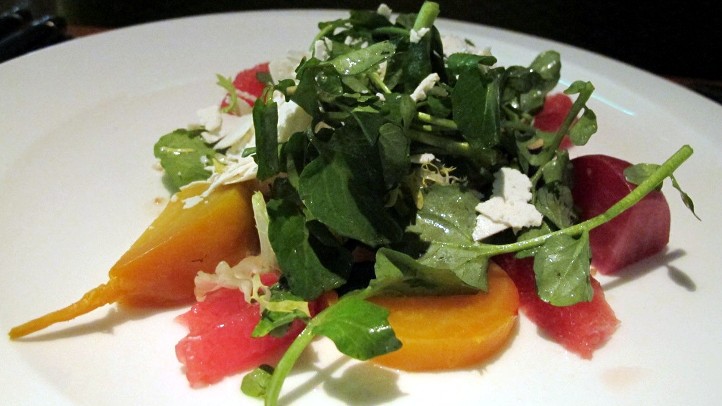 BEETIFUL: We came across a photo of a beautiful beet salad while reading about Silicon Valley Restaurant Week, and there our reading halted. Because. We just had to stare at the salad for awhile while wishing we were at the restaurant, with a glass of chardonnay, eating it. Eating two of them, even. Can one eat two beet salads in a row? We suppose one darn well can. We think the beet might be one of the most perfect foodstuffs ever invented, and we know we stir controversy's kettle by saying that (it is truly one of those love it/hate it edibles, much like cilantro, which we can't even get into discussing, because, again, cilantro is perfection in leaf form). In short, Silicon Valley Restaurant Week is serving up what we like, and for a solid nine days, too; it's on through Wednesday, Sept. 21.
ON THE ROSTER: Loads of SV eateries going the multi-course, prix fixe route. Who is on the list? Pagoda in San Jose, the Los Gatos Brewing Company, Santa Clara's Piatti Ristorante. As with all restaurant weeks, having a look-see at what place is serving what and for how much is key. So find your look-see here.
AND HONEST? We want to go back to the beet theme that started this post, but we shan't. What we will do is direct you to this Silicon Valley Restaurant Week post, which is just highly poetic. Not that restaurant week posts can't be, but they so often are not. Key line: "This rotund spaceship has spent hundreds of millions of years developing ingredients for our culinary delight." Thank you, writer of this, for going the extra mile beyond prices and opening hours. Bravo.
Copyright FREEL - NBC Local Media