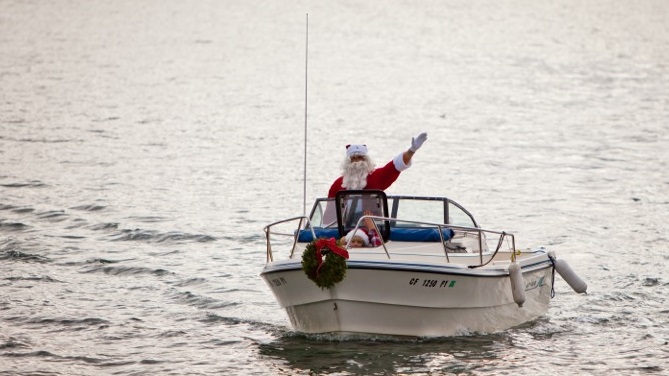 LEGEND HAS IT... that Santa Claus has a hand in helping reindeer gain lift-off, and he can also turn out a 100,000 toys an hour, give or take. But does he also hold sway with the weather? Certain televised Christmas specials says this is not so, but we believe he might. How else to explain the oh-so-brisk December we're now wading into, and how it coincides with Kris Kringle's water arrival at Nick's Cove & Cottages on Sunday, Dec. 8? Nope, Tomales Bay will not drop to North Pole-like temperatures, but you can count on a muffler or a pair of mittens making an appearance.
ONCE ON SHORE... the Bearded Jolly One shall pose for pictures and wave and do all of the congenial things that Santa Claus does. There've already been a merry slew of Santa boat arrivals this year, first in Santa Cruz, and then in Petaluma, on the river. But that was straight-up Pacific and inland waterway; Tomales Bay is a whole new deal, so best get up there if you've got to see all of the H20-y, Santa-based haps this season.
AND IF YOUR MERRY MOOD CONTINUES... swing through Petaluma before or after your shore-close visit. A bevy of open houses, all with a holiday feel, are going down around the city. The Lighted Boat Parade happens on Dec. 7, if the whole water and whimsy approach to this year's season has you jazzed. Truly, it's a pretty California way to celebrate, throwing a little ocean or wave-type love into the mix. You've got a starfish ornament at the top of your tree, right?
Copyright FREEL - NBC Local Media