Legendary actor George Clooney and wife Amal Clooney showed support for Charlie Hebdo, a French paper that was the target of a deadly terrorist attack in Paris, at the 2015 Golden Globes.
The 53-year-old actor and Cecil B. DeMille Award recipient wore a "Je Suis Charlie" button on the left side of his tux while his wife sported a similar one on her white clutch pocketbook.
[[288202821, C]]
Other celebrities joined Clooney in a show of support holding up "Je Suis Charlie" signs for photographers as they walked the red carpet.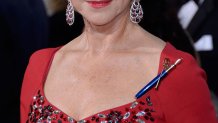 Helen Mirren posed for pics with the sign as did Diane Kruger and Joshua Jackson. Director Alexandre Desplat also held up a sign.
Instead of a sign, Kathy Bates held up her phone with a digital photo of the "Je Suis Charlie" message.
[NATL] Golden Globes Red Carpet: Best and Worst
[[288221761, C]]
[[288211671, C]]