Underage drinking rates are dropping steadily, a new study reveals.
The report by the Substance Abuse and Mental Health Services Administration (SAMHSA) also showed a decline in underage binge drinking.
While alcohol remains more widely used than tobacco or illicit drugs, the report indicates that the level of underage drinking of those aged 12 to 20 dropped from 28.2 percent in 2002 to 22.7 percent in 2013. Binge drinking, defined as having five or more drinks within a couple of hours of each other, has also declined from 19.3 percent in 2002 to 14.2 percent in 2013.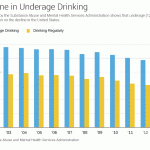 Both locally and nationally, community coalitions, law enforcement, and organizations like SAMHSA have focused on preventing underage drinking through media campaigns and even apps. SAMHSA's "Talk. They Hear You" mobile app, for example, prepares parents for conversations with children about the risks involved with alcohol consumption.
"When parents communicate clear expectations and they are supported by community efforts to prevent underage drinking, we can make a difference," said Frances M. Harding, director of SAMHSA's Center for Substance Abuse Prevention, in a press release.