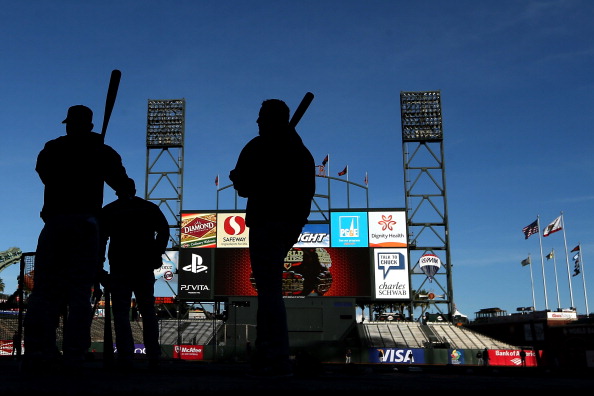 It's a sure sign that spring has arrived in the Bay Area - birds are chirping, allergy season is in full swing, and the San Francisco Giants are playing baseball on the banks of McCovey Cove.
The World Series Champions hold their Home Opener at AT&T Park Friday.
Gates open at 11 a.m. with a full hour of pre-game festivities scheduled for the sell-out crowd.
PreGame Ceremonies begin 12:40
#RaiseTheFlag 1:25
1st Pitch 1:35
The highlight will be the raising of the World Series flag in the outfield. The player to have the honor of hoisting it is a well kept secret.

Thanks to team president and CEO, Larry Baer, the players are all coming back, so the headline-grabber this time, is (drumroll, please) the menu.
And we aren't talking about peanuts and Cracker Jacks.
The Giants are king when it comes to foodie fare offering delicacies such as grilled eggplant sandwiches, oysters on the half shell and field roasted artesian sausages.

There are also several new food and drink options. (See the full list below)
But here are some highlights, and of course, we'll start with the drinks: A Vintage 58 wine bar has been set up behind home plate on the main level. Lefty O'Doul's has set up a bar at the top of the O'Doule Gate that features its famous Bloody Mary mix and specialty cocktails. And for the cool night, you can now get a new hot beverage. Ghiradelli will offer a carmel-topped hot chocolate (when a plain hot chocolate just won't do).

As for food ( to soak up all those Bloody Marys!), new dishes include San Francisco's historic Original Joe's giant high-end hamburger. On the club level, Joe's Garcia will be offering new, crisp-griddled gorditas topped with house-pickled cabbage and jalapeno slaw. Murph's Pub will offer a lamburger (yes, that's a hamburger patty made with lamb) topped with Guiness-caramelized onions and Irish cheddar cheese.

The Giants will also playing off the popularity of mobile food carts, and provide pop-up bistros only via the @sfgiantfoodie Twitter feed. #GiantPopUp will feature treats not currently available at the park, including made-to-order hot pastrami sandwiches and knishes, oysters on the half shell, hot apple cider and warm turnovers.
Canadians will also like to know that they will be able to chow down on a national favorite. Poutine fries will now be available throughout the park. Poutine are french fries smothered in beef gravy and white cheddar cheese.
The Giants started the 2013 season on the road in Los Angeles April 1. They return home with a winning record of 2-1. The team will celebrate Opening Day against the St. Louis Cardinals.

The ballpark itself also made a few upgrades in the off-season. The iconic 80-foot Coca-Cola bottle got a new coat of paint. The Build-a-Bear workshop is no longer there and will soon be replaced with a social media hotspot.
Complete list of food options:

Promenade & View Levels
Vintage 58: A new wine bar with an exclusive location behind home plate on the Promenade Level featuring tasting room décor and offering selected varietals from various regions.
McCovey's BBQ Restaurant Kiosk: A new location for McCovey's tasty BBQ at the top of O'Doul's Gate featuring pulled pork nachos.
Say Hey Sausage Kiosk: A new portable kiosk on the Promenade Level featuring a variety of specialty sausages including Atomic Hot & Half Pound Polish kielbasa sausage and Bavarian Pretzels.
Chicago Dog Cart: Located directly behind home plate on the Promenade Level featuring the Original Chicago Dog with all the authentic toppings.
Lefty O'Doul's Bar: Another San Francisco icon joins the team at AT&T Park. This satellite location of the historic Lefty O'Doul's bar located at Union Square, features their famous Bloody Mary mix, specialty cocktails and is located at the top of the O'Doul Gate.
Original Joe's Burger: The Derby Grill Specialty Burger Stand located on the Promenade Level in Left Field, will feature the exact recipe of the iconic Original Joe's burger.
Other new Items found throughout the ballpark: Pannini sandwiches, Poutine Fries -- French fries smothered with beef gravy & white cheddar; Mumm's Sparkling Wine; Carmel topped Ghirardelli hot cocoa; and field roast artesian vegetarian sausages.

Field Club & Virgin America Club Levels
Pop Ups: Playing on the popularity of mobile food carts, pop-up bistros will be advertised only via the @sfgiantfoodie Twitter feed. #GiantPopUp will feature treats not currently available at the ballpark, including made-to-order hot pastrami sandwiches and knish, oysters on the half shell, hot apple cider and warm turnovers filled with Frog Hollow Farms fruit preserves.
Ferry Terminal Seafood: In partnership with Ferry Terminal Seafood, the new Club Level seafood cart located near the Carvery and Section 234 will offer up such favorites as New England and Manhattan clam chowder, shrimp and crab Louis, seafood cocktails, and freshly baked sourdough bread. Still and sparkling wine by the glass.
Emerald Isle Potato Bar: A baked potato concept located next to Murph's Pub on the Club Level. Like Long Taters, Emerald Isle will feature extra-large baked Idaho potatoes and buttery mashed potatoes with an array of classic toppings.
Farmer's Market: A brand-new look for the Farmer's Market, located on the Club Level. The mercantile offers locally grown produce, fresh fruit aguas frescas, strawberry shortcake, seasonal pies and gelato. Indulge a savory appetite with seasonal vegetable antipasti and a wine bar specializing in sustainable and locally crafted wines both on tap and from the bottle
Joe Garcia's: New items available at Joe Garcia's include: Crisp griddled gorditas topped with a house pickled cabbage and jalapeno slaw; Chipotle Sweet Potato Fries; and a Burrito Bowl featuring char grilled chicken, ancho chile rubbed skirt steak, carnitas or chile lime marinated white fish served with Spanish rice and topped with classic burrito fillings.
Guiseppi Barzurro's: New items available at Guiseppi Barzurro's include the favorite Greek and chicken Caesar salads available in wraps and a Grilled Eggplant Sandwich featuring balsamic, thyme and garlic marinated eggplant grilled and topped with roasted red bell peppers, goat cheese, salsa verde and baby arugula on a baguettini.
Mashi's Sushi: New items available at Mashi's Sushi include SF "Giant" Roll-ahi tuna, avocado, bok choy, shiso, green onion, fried tofu and scichimi aioli create one giant roll; Sashimi Bowls with ahi tuna or arctic char garnished with shiso and mayo with a choice of brown or white rice; and Tofu and Bok Choy in a lemon-grass green curry topped with ice peppers served over brown or white rice.
Murph's Pub: The Irish Lamburger served with Guinness caramelized onions and Irish Cheddar will be a new item on the popular menu