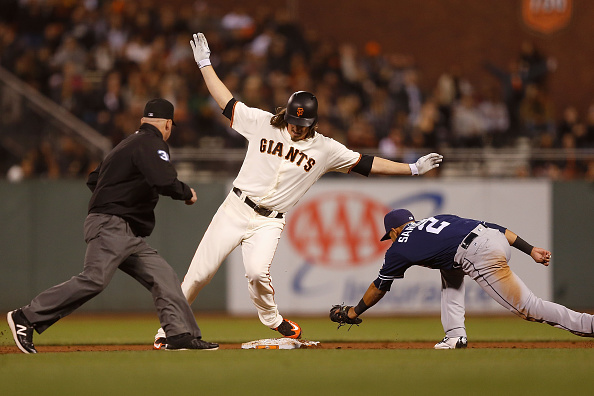 SAN FRANCISCO — Hector Sanchez is getting a lot more comfortable with his swing and his role on the Padres since coming off the disabled list almost two weeks ago.
Hitting a home run against his former ballclub provided a lift, too.
Sanchez homered and singled twice in his return to AT&T Park, and six San Diego pitchers combined on a five-hit shutout as the Padres beat the San Francisco Giants 4-0 Monday night.
"It's amazing to play in this ballpark," Sanchez said. "Great fans, beautiful field. Sometimes in baseball you have to turn the page. I spent a lot of time with the Giants, had great memories. But when you come back here you have to turn the page and do the best you can do."
Sanchez spent his first five seasons in San Francisco as a backup behind four-time All-Star catcher Buster Posey and had homered only twice previously at AT&T Park before hitting a 2-2 pitch from starter Jeff Samardzija (11-10) into the stands above the brick wall in right field with one out in the sixth.
It's Sanchez's first three-hit game since May 17, 2014.
"That was crazy. I didn't expect the ball to go out," Sanchez said. "I guess I put a good swing on it and lucky for me it went out."
Yangervis Solarte drove in two runs and Luis Sardinas added two hits while helping the Padres to their fourth consecutive win over the Giants.
It was a bitter loss for San Francisco, which dropped four games behind the first-place Los Angeles Dodgers in the NL West after trimming two games off the lead last weekend.
With 19 games left, however, the Giants still lead the race for the league's top wild card.
"We have not been consistent with our lineup," San Francisco manager Bruce Bochy said. "It sure looks bad to get shut out when you get back home the first day, but we're staying behind these guys."
Padres starter Paul Clemens (3-5) fought through flu symptoms earlier in the week and vomited between innings but still pitched five gritty innings to end San Francisco's three-game winning streak. The right-hander allowed three hits, walked one and struck out two.
"He actually held it together stuff-wise better today than he has in his previous couple of starts," San Diego manager Andy Green said. "It was a cool night so I'm sure that helped him, too. He was just very, very good under the circumstances."
Solarte had an RBI single in the fourth and drove in another run in the fifth with a grounder.
Hunter Pence had two hits for the Giants.