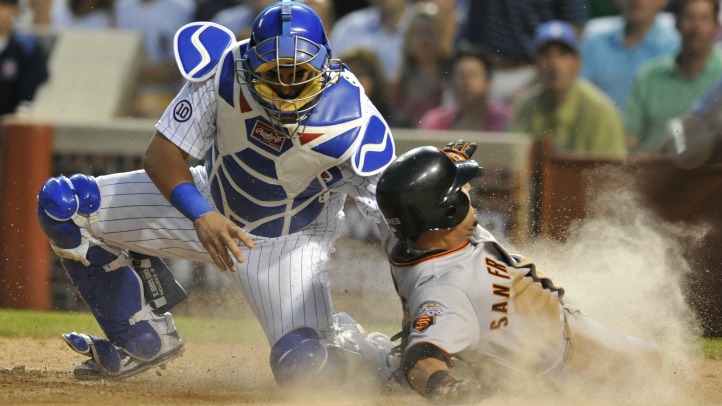 No wonder Bruce Bochy thinks Wrigley Field is "special."
His Giants team, in Tuesday's doubleheader, finally found some offense, scoring 19 (!) runs in just two games, a substantially different crooked number than San Francisco's used to seeing.
(Typically, it's a "2." Maybe a "3" if they're feeling saucy.)
This is important because, as Rob Neyer noted at Baseball Nation, during the first portion of that doubleheader, the Giants also crossed into the land of positive run differential.
That's right, the Giants are actually SUPPOSED to be winning now! See, though wins are wins are wins are wins, if a team isn't scoring more runs than it's opponents, there's a pretty clear indication that some regression is expected.
Even with a studly pitching staff and guys like Ryan Vogelsong -- and, as of last night, Barry Zito! -- pitching over their heads, it's still really, really, really hard to finish the season in first place in your division if you don't outscore your opponents.
Want proof? We got proof.
Only six times in the history of baseball has a team made the playoffs when said team didn't outscore its opponents.
Twice this happened with the Royals in the 80's (1981, a strike season, and 1984), the combination of which should be enough to make both flukes.
And it happened with the Twins in 1987, as well as that year's Giants team.
Then it happened in 2005 with the Padres, who somehow needed just 82 games to win the division. (Awk. Ward.)
And, finally, the 2007 Diamondbacks, who, as Neyer notes, were outscored by 20 runs over the course of the season and still managed 90 wins.
The point is that it can happen, but it doesn't happen much. And maybe the not-scientific other point to pick up on: if it's going to happen, it's going to happen in the NL West or the AL Central.
Which puts the Giants in a pretty good place at the moment, even if those 19 runs from Tuesday brought them to 284 runs on the season, and made them the last first-place team to cross the 275-run barrier for the season.
The quick math on that will tell you the Giants are averaging 3.55 runs per game (284/80, duh). No, it doesn't feel like it should be that high, but whatever.
A glance across the country and into the hardest division in baseball, the AL East, tells you that victories are a slightly more offensive premium: the Yankees, who have won 46 of their 77 games while scoring 411 runs, are averaging 5.34 runs per game.
That doesn't mean the Giants are in trouble or that the Giants can't do what they did last year -- make the postseason, pitch lights-out and get some random bats hot. They can.
It just goes to show that the Giants aren't very good offensively. And though we might not have needed all that easy math to prove such a point, we can at least take comfort that they're on the positive side of things now.