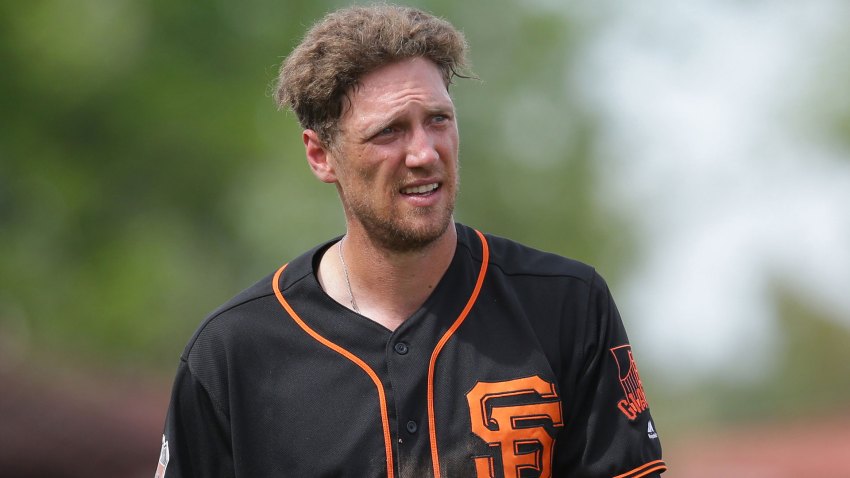 SCOTTSDALE, Ariz. - The Giants have watched with pride as Buster Posey and Brandon Crawford have helped lead Team USA to the final round of the World Baseball Classic, but back in Arizona, the plate appearances haven't been quite as fruitful.
After a 6-4 loss to the Brewers during which many of his regulars continued to struggle, manager Bruce Bochy said some veterans could head down to minor league camp over the next week to get six or seven at-bats in one game. Bochy said the final decision is up to the veteran players, but it's not hard to figure out who he's talking about. In Sunday's lineup, there were two starters (Hunter Pence and Denard Span), a potential backup outfielder (Gorkys Hernandez) and a reserve infielder candidate (Jimmy Rollins) hitting under .200.
Span has started to pick it up in recent days, but Pence was hitless in three at-bats, dropping his average to .125.
"He's still searching, it's pretty obvious. He's still searching," Bochy said. "We've got some guys who are searching. You can look at the numbers."
The positive news is that Pence is healthy. Also, spring training numbers don't matter at all for veterans who are locked in for Opening Day. Still, Pence would like to see some better results before the April 2 opener at Chase Field.
"Hopefully I can figure it out before the lights go on," he said. "I definitely don't want to be feeling like this when the season starts, I know that."
The results weren't much better on the mound Sunday. Jeff Samardzija gave up nine hits and six runs in four-plus innings.
"The pitches were a little flat today, there's no getting around it," Bochy said.
ROSTER CUTS: Tyler Beede and Christian Arroyo were sent down to minor league camp, where they'll probably join up with Austin Slater and Steven Duggar and others to form a loaded Triple-A team. The Giants also reassigned lefty Kraig Sitton and optioned Orlando Calixte to Triple-A.
ICYMI: Mark Melancon is officially headed to the World Baseball Classic. Also in that story, Johnny Cueto's reaction to some fans back home calling him a traitor.
TRAINER'S ROOM: Mac Williamson has been sidelined this weekend by left quad tightness. It's not serious (Williamson blasted four straight homers during one of his BP rounds) but the Giants are going to be careful here. Obviously, the timing sucks for a guy who was having a good spring and was trying to win a job. There's nothing standing between Jarrett Parker and an Opening Day look at Zack Greinke.
FAMILIAR FACE: Andrew Susac didn't make the trip with the Brewers. He's sidelined by a neck issue, and it sounds like that could hurt his chances of winning a three-guys-for-two-spots camp battle. Brewers people think he's on the outside looking in.
QUOTABLE: "No, not at all. Not at all. We've seen what he's done for the years he's been here and how he steps up in those big situations in the playoffs. That's what we have him for." - Matt Cain, when asked during a recent interview if Bumgarner's wild card performance surprised him. You can listen to that podcast online here or on iTunes here.
Copyright CSNBY - CSN BAY