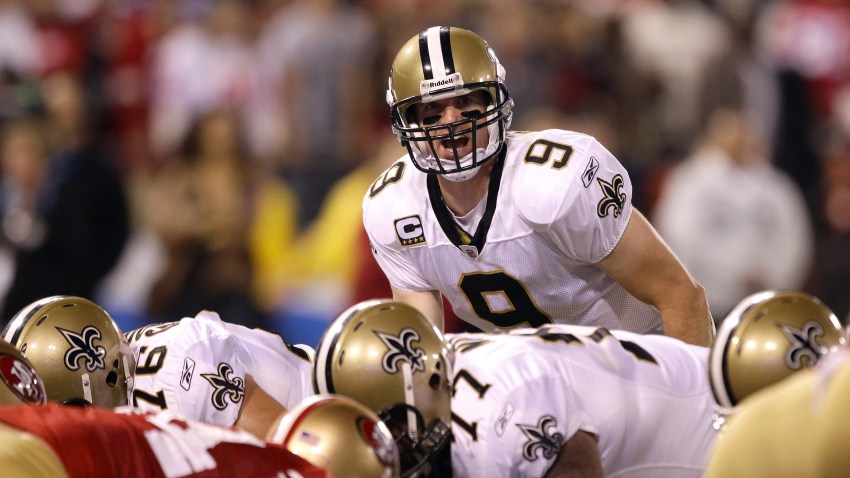 Does defense still win championships in the NFL? Or is that just a leftover cliché from days gone by, before spread offenses, computer analysis and rules changes?
We're about to find out.
When the Saints and 49ers clash Saturday afternoon at Candlestick Park in an NFC divisional-round playoff game, it will be a classic clash of styles, the offense-gone-wild gang from New Orleans that averaged 34.2 points per game this season vs. the defense-first Niners who allowed just 14 points a game.
In fact, it will be the first playoff game in more than 60 years between a team that averaged more than 34 points per game vs. a team that has given up less than 15, notes ESPN. In the 1950 NFL championship game, the stingy Giants stopped the high-scoring Rams 30-28.
Oddsmakers, however, are favoring offense over defense, making the Saints a three-point favorite to advance to next week's NFC Championship Game to play for a spot in the Super Bowl.
The Saints, who swept aside the Lions 45-28 in the wild-card round of the playoffs last week with Drew Brees throwing for 466 yards, have won nine straight games and churned out an incredible 600-plus yards in each of their last two games. New Orleans isn't just one-dimensional, either. The Saints scored three rushing TDs last week and have a group of talented backs that includes game-breaker Darren Sproles – who set an NFL season record for combined yards this season – and Pierre Thomas.
The Saints, too, have a solid defense under defensive coordinator Gregg Williams, who's known to blitz early and often.
The 49ers, meanwhile, will rely on an aggressive, solid-tackling defense that features star inside linebackers Patrick Willis and NaVorro Bowman and All-Pro defensive lineman Justin Smith and rookie Aldon Smith, who had 14 sacks this season. Overall, the 49ers tied for seventh in the NFL with 42 sacks. Brees, however, is one of the toughest QBs in the NFL to get to, having gone down just once every 29 dropbacks, the best rate among starters, according to ESPN.
San Francisco feasts on others' mistakes while making few themselves. The Niners had a plus-28 turnover ratio this season, with 38 takeaways and only 10 turnovers.
"All the major statistics, they rank very high," Saints wide receiver Marques Colston told reporters this week. "I think the No. 1 thing they do is cause turnovers. So obviously that's going to be first and foremost for us this week."
Alex Smith, who threw for a career-high 3,150 yards this season, was intercepted just five times while throwing for 17 scores. He said this week that by managing the offense, and doing what they do best, San Francisco can overcome what seems like an unstoppable Saints team.
"I really don't care," Smith told reporters, when asked about his passing prowess in comparison to Brees. "I'm looking to outscore him. He can throw for however many yards he wants to. A lot of different ways to win games in this league. Obviously offensively, they're doing a lot of great things now. Record-setting offense. It's kind of what you aspire to get to, no question. … It is what it is. It still comes down to scoring more points than the other team and that's what we're going to do."
Niners head coach Jim Harbaugh, too, has had a simple message for his team this week: keep doing what you've been doing.
Run the football. Play defense. Take care of the football. Play well on special teams. Take care of your business and everything will be fine.
"Trust their own instincts," Harbaugh said of what he's told his players. "Trust their gut. Make it about the team. Trust the team. A guy doesn't have to do too much. I think our team goes into this game confident and bold."
San Francisco has lost six straight games to the Saints, with the last defeat coming early last season. But, there are these numbers, too: New Orleans is 0-4 all-time in road playoff games, while the 49ers are 18-8 in home playoff games.
Brees has studied film of the Niners for a week now, and sees a very strong defense.
"They're built a little differently," he says. "They're typically a lot bigger, they're more physical. You look at them statistically, No. 1 against the run, they're putting all kinds of pressure on the quarterback. They rarely miss tackles."
But will that be enough? It's time to find out.