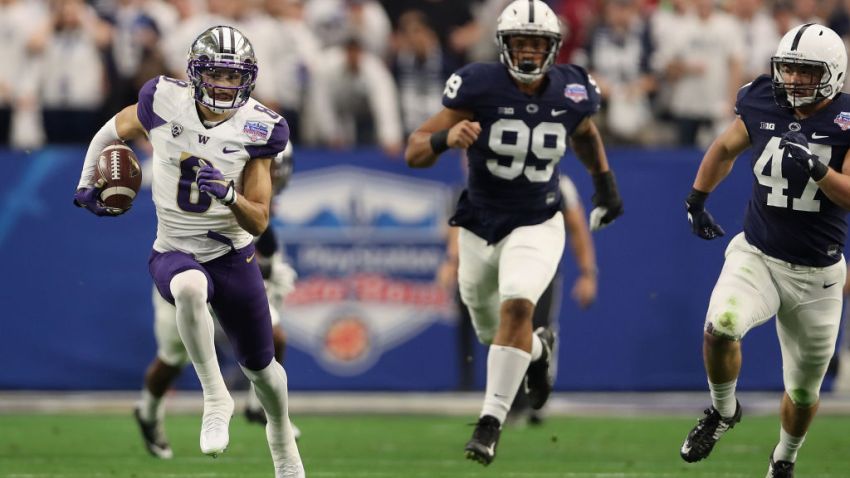 Dante Pettis is a talented football player, but he's not one-dimensional. The son of former major league outfielder Gary Pettis is interested in art and literature and loves to paint. He's an avid reader. At the University of Washington he majored in English with an emphasis in creative writing.
Yet as the new 49ers wide receiver and standout returner prepared for the NFL draft this spring, his interests outside of football apparently prompted some scouts to question his commitment to the game.
"I'm not shy about what I like outside of football and so a lot of people take that as like, 'Oh, maybe he's not bought into football all the way,' " Pettis said recently on a podcast with Matt Maiocco. "They'll kind of try to get that out of me, like, 'How committed to football is he?' and all of that. So I think that's the biggest thing they are trying to get. I don't know. I would say that what I wanted to get across worked."
It certainly must have worked with the 49ers, who used a second-round selection on Pettis. The 6-foot-1, 195-pounder was super productive for the Huskies over four seasons, catching 163 passes for 24 touchdowns while also returning 90 punts for a terrific 14.2-yard average and nine touchdowns.
Now, several weeks past the draft, the Niners appear happy with their choice, who's performed very well in drills, meetings and practices, through this week's organized team activities (OTAs).
Pettis is part of a trio of rookie wideouts trying to earn their way into the 49ers' offensive scheme in 2018, along with Richie James Jr., a seventh-round pick, and Steven Dunbar Jr., an undrafted free agent.
Wide receivers coach Mike LaFleur this week told Joe Fann of 49ers.com that he loves what he sees in Pettis. LaFleur says he appreciates Pettis' ball skills and versatility.
"He can do a little bit of everything," said LaFleur. "He can play inside. He can play outside. It popped off the film for him, and it's shown out here (in OTAs). He's been very, very good in the classroom. He can pick stuff up quick and then translate it out (on the field)."
In practices, Pettis has been running routes out of the slot and from the outside positions, and LaFleur says he and the coaching staff want to throw a lot at him to challenge him. He's certain Pettis will make an impact in 2018.
"He's got the speed to stretch the field," he said. "He's got the hands to play over the middle. He's got the separation ability if we need him on third down to separate in the slot."