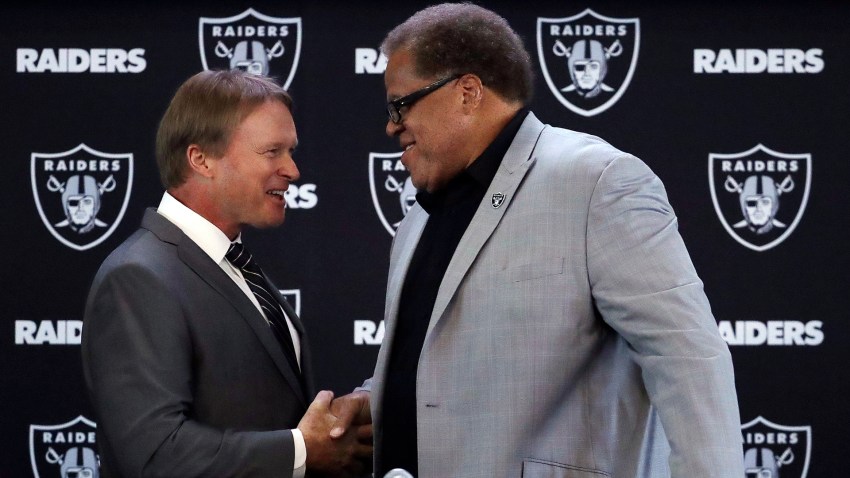 Raiders head coach Jon Gruden and staff have huddled in dark rooms or around conference tables these past few weeks, dissecting every aspect of this roster. They're deciding how each guy fits into new playbooks being simultaneously assembled. It's a vital undertaking that will set the course for next season's quest to rebound from a 6-10 disaster.
As Raiders fans well know, decisions made in winter can impact fall results. Coaching choices have been made. Roster decisions are key moving forward.
Additions require subtractions, and cornerback David Amerson was the offseason's first recognizable discard. That number will grow in time as Gruden and general manager Reggie McKenzie try to upgrade a talented, yet flawed roster.
Gruden adds an unknown element to this winter and spring. While there's plenty to study from Gruden's previous coaching stint, he'll approach this career chapter in a different way. Identifying his personnel preferences might be inexact until he starts making moves, but Raiders roster needs are glaring. Let's take a look at the top five.
1. Cornerback
Last year's first-rounder Gareon Conley is slated for a starting spot. The Raiders have a series of question marks after that.
The Raiders added $6 million in salary cap space by releasing David Amerson. They could remove another chunk waving goodbye to Sean Smith, who is due an $8.25 million base salary and is facing felony assault and battery charges. Smith finished the season strong when used shadowing favorable matchups, and has talent to thrive in specific schemes and responsibilities.
TJ Carrie is headed for unrestricted free agency. While Conley has great ability, he'll have to remain healthy after missing 14 games with a shin injury that required surgery.
An addition will be required even if the Raiders keep Smith, which is uncertain and seems unlikely. The Raiders could draft another cornerback early, or go for a veteran who fits Paul Guenther's scheme on the outside. There's no natural heir to the slot, so the Raiders might add a few to this group if Carrie takes another team's offer.
2. Defensive line
Khalil Mack might be the NFL's best edge rusher. He's among the position's elite at the very least, and Guenther said finding him one-on-one matchups might be better than a blitz. He'll need more talent along the front to divert blockers. That's especially true at defensive tackle. McKenzie's 2015 second-round pick Mario Edwards Jr. hasn't been healthy or consistent enough as a pass rusher to be a real threat. McKenzie's 2016 second-round pick, Jihad Ward, was inactive or ineffective last season. Denico Autry was solid, but heads toward unrestricted free agency for the first time.
Eddie Vanderdoes flashed early, disappeared after that and suffered an ACL tear in the 2017 finale. Treyvon Hester is a quality prospect who can fill a role.
The Raiders need a dynamic playmaker inside, as Guenther had with Geno Atkins in Cincinnati. Those talents are expensive or hard to find, but the Raiders should look in this draft.
They might need a traditional 4-3 end as well. Bruce Irvin has been solid rushing opposite Mack, and seems worth his $8 million base salary next year. He could play strongside linebacker on base downs – his role in Guenther's scheme remains uncertain – but depth or a starting end seems vital no matter where Irvin plays.
3. Receiver
The Raiders need help catching passes. That's true whether or not they keep Michael Crabtree. The veteran was disgruntled at season's end and is no guarantee to make next year's roster. His $7 million base salary is not guaranteed, and can be cut if Gruden decides to disassociate with a clutch receiver entering his 31st year coming off a down season.
Seth Roberts was largely a non-factor from the slot, and in effective on the outside. He carries a $2 million cap hit, no obstacle should the Raiders choose a different direction. McKenzie loves Roberts, but Gruden may have a say there. We'll see.
Amari Cooper wasn't great in 2017, but had 1,000-yard seasons his first two years and remains a top talent with the work ethic required to get right.
One option: The Raiders could tack extra funds on to money saved by releasing Crabtree and get a higher-profile receiver like Jarvis Landry or Allen Robinson or someone that excites Gruden. They could add a middle-round developmental talent to the mix, preferably one with steady hands, even if Roberts remains in the mix.
4. Linebacker
Guenther expressed an interest in re-signing soon-to-be unrestricted free-agent NaVorro Bowman. The veteran middle linebacker said he'd like to be part of a Gruden regime. That could stabilize yet another unsettled issue during the McKenzie era. The GM has struggled upgrading several positions on this list, but middle linebacker might be chief among them. He has proven adverse to using high draft picks or substantial dollars on the position, leaving the Raiders without a steady man in the middle.
Bowman could fill that need, or they could finally use a first-rounder to anchor the defense.
Marquel Lee could help on rushing downs or provide depth.
Irvin could play on the strong side, with Cory James on the other. Guenther could find a role for undrafted linebacker Nicholas Morrow as well, but he'll have tremendous say in how this position group fills out.
5. Safety
There are several positions that could fit here, from right tackle and running back (even with Marshawn Lynch on the roster). We're going with the safety spot, even with two young players in the mix. It's likely Reggie Nelson will be allowed to leave in unrestricted free agency.
Karl Joseph will return and should start. Obi Melifonwu has starter's size, speed and raw talent, but he remains an unknown after having knee and hip surgeries last season. He wasn't able to play or practice much due to injury, and making it difficult to assume he can be an every-down player.
A veteran free agent would offer security to this important position group, even a second-tier player on a shorter-term contract. The Raiders secondary has been a liability for too long. It's time to shore it up.
Copyright CSNBY - CSN BAY