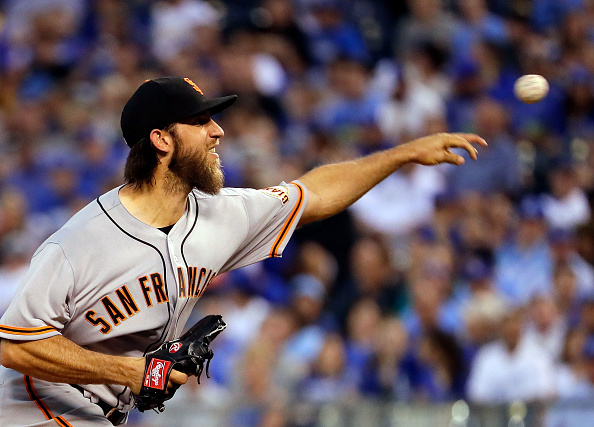 KANSAS CITY — Madison Bumgarner's return to Kansas City was similar to Game 7 in one respect. He didn't get a whole lot of help.
Bumgarner wasn't at his best Wednesday, but he made it through six one-run innings in his first appearance against the Royals since the 2014 World Series. The Giants got shut out 2-0 by Jason Vargas and the Rockies. Bumgarner fell to 0-3 on the season. The lineup has scored two total runs in his past three starts.
There was no reaction as Bumgarner took to the mound at Kauffman Stadium, due to a combination of a small crowd, a 2015 title here, and maybe a little midwestern hospitality. The Royals missed an opportunity to get to Bumgarner right as he entered Game 7 three years ago and they missed again early on Wednesday.
With two in scoring position and two outs in the second, Eduardo Nuñez snagged a 111-mph liner off Cheslor Cuthbert's bat. A frustrated Bumgarner yelled at himself the entire way back to the dugout, but he came out and stranded two more in the third.
In the fifth, the Royals finally snapped an 18-inning scoreless streak against Bumgarner. Paulo Orlando singled with one out and took second on a delayed steal. He reached third on a groundout and scored when Bumgarner was late getting over to first on a sharp liner to Brandon Belt. Bumgarner stranded two more in that inning and one in the sixth before giving way to Steven Okert.
On the other side, Vargas was outstanding. The Giants got a pair of singles in the fourth, but other than that it was all quiet against the lefty, who lowered his ERA to 0.44.
Starting pitching report: Bumgarner walked away with a fine line — six innings, seven hits, one run, one walk, four strikeouts — given the lack of command he had at times. Through four starts he has a 3.00 ERA.
Bullpen report: Steven Okert threw some cheese in the seventh. He really should be here to stay.
At the plate: For the third time in four games, the Giants did not have a baserunner the first time through the order. That is suboptimal.
In the field: The Royals tried three delayed steals, and they were successful twice. The only failure was when Orlando over-slid the bag in the seventh.
Attendance: The Royals announced a crowd of 24,402 human beings and 382 dogs. One of them wore a "Real Men Love Pigs" t-shirt. (One of the humans, not one of the dogs.)
Up next: A day off! In Denver, on April 20. Huh.