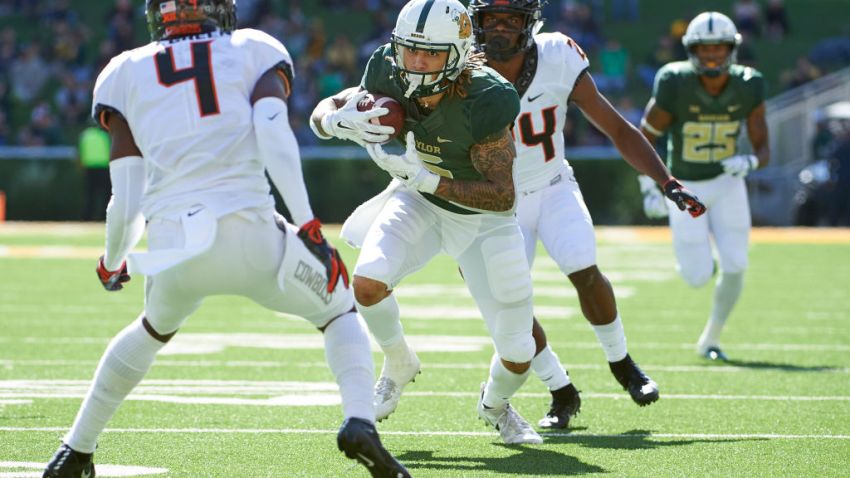 Kyle Shanahan has big plans for Jalen Hurd. They may not be specific plans yet – he still needs to see what Hurd can do best on an everyday basis – but Shanahan knows he and the 49ers have drafted a versatile athlete who can play any wide receiver position or make an impact as a tight end or ballcarrier.
Hurd, who started his career as a standout running back at Tennessee, transferred to Baylor and became a high-impact wide receiver. After just one season at the position, Shanahan and the 49ers selected him in the third round.
The 49ers have given him a wide receiver's jersey number (17), but Shanahan has plans to use him in a variety of roles.
"He can help us out in a lot of different ways," Shanahan recently told Nick Wagoner of ESPN.
Hurd changed positions because, as Wagoner wrote, "he wanted a longer, less punishing career" in pro football. But, Hurd is excited about the prospect of being a multipurpose performer. So is Shanahan. He can see Hurd taking handoffs in the backfield, lining up at slot or tight end, running reverses or splitting out wide. And, at 6-foot-5 and 226 pounds, Hurd has the size and speed to excel at any of those roles.
"What's neat is when you have a receiver who can fluctuate like that," said Shanahan. "But also it's the mentality to go play at running back or to play tight end. And it doesn't mean you want to put him there all day, but just to have the threat to do that.
"There's a lot of receivers who maybe could have the ability to do it, but it's very rare to have the ability and the mentality with it because playing running back is a lot different than playing receiver, and it's a lot different than playing tight end, and he's capable of doing it all."