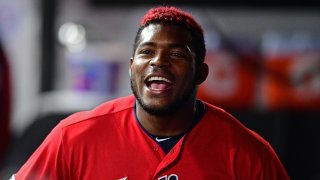 The Giants replaced franchise icon Bruce Bochy with Gabe Kapler as their new manager this offseason, and reportedly have "shown no inclination" in keeping Madison Bumgarner.
Now imagine if they signed one of the most despised opposing players in franchise history. Glasses of IPA would be shattered, beanies would be burned, even Patagonia jackets might be on the wrong side of angry fans.
The Athletic's Jim Bowden made one move for all 30 MLB teams at the Winter Meetings, and here's his wish for the Giants: Sign outfielder Yasiel Puig to a four-year, $48 million contract.
Slow down, hold on to your garlic fries. Everything is going to be OK. There's no reason to spit out your Philz coffee.
Bowden, who served as the Reds general manager from 1992 to 2003 and Expos/Nationals GM from 2005-'08, links Puig to the Giants with his ties to Kapler and president of baseball operations Farhan Zaidi. Kapler was the Dodgers' director of player development for three of Puig's seasons in Los Angeles, while Zaidi was L.A.'s GM for five of those years.
Puig became an instant Giants nemesis with the Dodgers immediately after debuting with San Francisco's rivals in 2013. He found himself in multiple scuffles with Bumgarner, and sparked a brawl in 2018 after fighting former Giants catcher Nick Hundley.
Zaidi and the rest of the front office isn't worried about the past, though. This is a new era of Giants baseball, where nostalgia -- and apparently PR -- aren't top priorities. In a bubble, Puig makes some sense for the Giants.
The Giants badly need right-handed power hitters and already have been linked to free-agent outfielder Nicholas Castellanos. Puig would give them a big boost offensively, one that fans have been clammoring to get for years.
Puig, who turns 29 on Dec. 7, hit 24 homers, drove in 84 runs and had a .785 OPS between the Reds and Indians last season. He also had a 1.2 fWAR, and FanGraphs has him worth at least one win above replacement in every season of his seven-year career.
Puig has hit at least 20 homers in three straight seasons, and has averaged 19 long balls in his major league career. The Giants ranked 26th in all of baseball last season with only 167 homers as a team. They also ranked 28th in slugging percentage (.392) and runs scored (678).
It's safe to say this team could use a slugger. They also need a right-handed bat to complement left-handed outfielders Mike Yastrzemski and Alex Dickerson. The most intriguing part of Puig's game, however, is his ability to hit in San Francisco.
Puig hit .417 with two homers in three games at Oracle Park in 2019. That wasn't an outlier, either. In 45 road games against the Giants, Puig is hitting .299 with five homers, 17 RBI and an .838 OPS.
Of Puig's 132 career home runs, 74 have been hit in NL West stadiums.
[RELATED: Report: Twins, White Sox 'heaviest suitors' for MadBum]
Take a deep breath. Now grab your Anchor Steam beer and carne asada burrito. Yes, Yasiel Puig on the Giants very well could make sense.
Copyright C